Ko speaks at European Parliament
Taipei's acceptance of different cultures and ideas is its defining value, incorporating progressive Western ideals into Chinese society, Taipei Mayor Ko Wen-je (柯文哲) said in a speech at the European Parliament on Wednesday.
Addressing a gathering of more than 30 members of the European Parliament, Ko spoke of Taipei's values, positioning the city in a landscape that is full of what he called "clashes of ideas and values."
While Taipei might appear to be like any other Chinese society, it is quite different, because "we can accept different cultures," Ko said.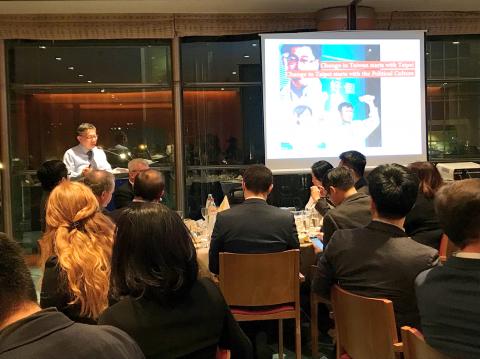 Taipei Mayor Ko Wen-je speaks to members of the European Parliament in Brussels on Wednesday, giving his thoughts on what Taipei's values are.
Photo: CNA
He pointed to the 50,000 Muslims who gathered in Taipei during last year's Eid al-Fitr, the Islamic post-Ramadan fast-breaking festival, as an impressive feat, especially as it occurred in a city and nation that are not Muslim.
Another example of Taipei's — and by extension Taiwan's — openness to different ways of life was the Taiwan LGBT (lesbian, gay, bisexual and transgender) Pride Parade in October last year, which attracted a record number of 123,000 participants, Ko said.
It was the largest parade of its kind in Asia, attracting more than 5,000 foreigners to Taiwan to celebrate the groundbreaking decision to legalize same-sex marriage in the nation, he said.
These different lifestyles and ideas can coexist peacefully in Taipei, because it is a city that accepts differences, he said.
"These are Taipei's values; this is how Taipei incorporates progressive Western values into a Chinese society," he said.
Instead of following in the footsteps of the US, China, or other nations, Taipei sticks to "our values and belief in democracy, freedom, diversity, openness, rule of law and sustainability," which allows the city to flourish, he said.
Ko's decision to mention "Taipei's values" instead of "Taiwanese values" has drawn attention, as he last month engaged in a debate with President Tsai Ing-wen (蔡英文) over her remarks on Jan. 23 that the Taipei mayor should reaffirm his commitment to Taiwanese values to gain the support of Democratic Progressive Party members.
Ko, who has made several remarks regarded as friendly to China, later challenged Tsai on what she meant by Taiwanese values.
Comments will be moderated. Keep comments relevant to the article. Remarks containing abusive and obscene language, personal attacks of any kind or promotion will be removed and the user banned. Final decision will be at the discretion of the Taipei Times.