Taitung balloon fest one of world's top 12: Travel Channel
GLOBAL PROFILE: The tourism director says the festival's success is because of its focus on local business and its connection to culture
The US-based Travel Channel selected the annual Taiwan International Balloon Festival in Taitung County's Luye Township (鹿野) as one of the world's top 12 such events, county Tourism Bureau Director Chiang Hui-ching (江慧卿) said on Monday.
Since the first Taiwan International Balloon Festival in 2011, the county has avoided focusing on short-term results or cliched fireworks displays, and instead seeks to facilitate the growth of local businesses, Chiang said.
The county government is happy to see that Travel Channel has named the festival one of the "12 Amazing Hot Air Balloon Festivals Around the World," she said.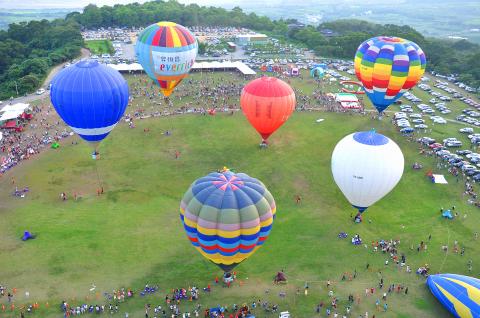 Hot air balloons pass over Taitung County's Luye Township on Monday as the Taitung County Government promotes the Taiwan International Balloon Festival, which is scheduled to take place between June 30 and Aug. 6.
Photo: Huang Ming-tang, Taipei Times
Others cited by CNN are the Albuquerque International Balloon Fiesta in New Mexico and the Saga International Balloon Fiesta in Japan, which is also Asia's largest, she added.
Last year, the Taitung event had an unprecedented number of creatively designed balloons from around the world, including a pink pig balloon from the US and a green parrot balloon, she said.
The festival's six music and light sculpture attractions, which each had different themes, were the major reason the Travel Channel included it on the list, she said.
Events in the county are rising in international profile because of their innovation and strong connection to local culture, she said.
"The Taitung hot-air balloon festival's local distinctiveness is why tourists should visit the county," she said.
This year's event is to be held from June 30 to Aug. 6 in conjunction with the Music Festival on the Lawn, she said, adding that balloon rides and the county's cuisine, with an emphasis on local produce, are to be featured.
Comments will be moderated. Keep comments relevant to the article. Remarks containing abusive and obscene language, personal attacks of any kind or promotion will be removed and the user banned. Final decision will be at the discretion of the Taipei Times.