'Fate' lands Japanese representative's chef in Taiwan
"Taiwanese are as warm as [their] cuisine," said Tsuyoshi Nagase, who is engaged in culinary diplomacy in his role as chef of the official residence of Japanese Representative to Taiwan Mikio Numata.
Even though he speaks Japanese, Taiwanese who do not understand Japanese listen to him earnestly and communicate with him, Nagase said.
Early last month, at a celebration of Japanese Emperor Akihito's birthday hosted by the Japan-Taiwan Exchange Association, Numata introduced Nagase to the guests.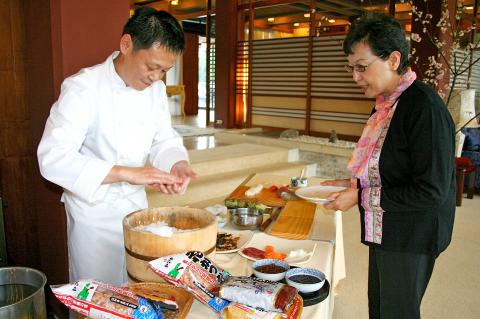 Head chef Tsuyoshi Nagase of the Japan-Taiwan Exchange Association's Taipei Office prepares food in an undated photograph.
Photo Courtesy of Tsuyoshi Nagase
Born in Osaka, Japan, Nagase has been chef of the official residence of the Japanese representative to Taiwan for more than three years.
In December 2013, when UNESCO added washoku — traditional Japanese cuisine — to its Representative List of the Intangible Cultural Heritage of Humanity, Nagase noticed that a trend of promoting washoku and umami — the fifth taste, savory — culture overseas had started in Japan, he said.
As a culinary professional with an idea that he, too, could contribute something, he took part in an informational meeting on recruiting chefs for Japan's representatives in Taiwan, the Middle East, Southeast Asia, Europe and other places, Nagase said.
The most difficult place to be recruited for was Taiwan, Nagase said.
As Taiwan already has many top-tier Japanese restaurants and has easy access to Japanese ingredients, it is relatively familiar with Japanese cuisine, he said.
The chef of the Japanese representative's official residence cannot be inferior to those of Japanese restaurants, thus the job was particularly challenging, he added.
He enjoys challenging himself, Nagase said, adding that hearing about these conditions piqued his interest and he applied to be stationed in Taiwan.
At a cooking test, Numata hired Nagase on the spot and he assumed the role shortly thereafter.
"It was all fate," Nagase said.
In his eyes, Taiwan and Japan are different, said Nagase, who has more than 30 years of experience in the culinary field.
Whether it is Taiwanese cuisine, takeout lunchboxes or regular drinking water — there is a "warm" element inside them all, he said.
At the same time, Taiwanese cuisine is "plain" and showcases the good taste of its ingredients, Nagase said.
For example, rice from Taitung County's Guanshan Township (關山) is not very expensive, but it is delicious, he said.
For him, culinary art is about "love, courage and enlightenment," he added.
His job means he has personally witnessed the wholehearted efforts of Numata and other association members working in Japan-Taiwan affairs, Nagase said.
Through cuisine, he has also communicated with representatives from several countries who are stationed in Taiwan, he said, adding that through these exchanges he has gained a sense of pride that comes with "using cuisine as a diplomatic contribution."
Comments will be moderated. Keep comments relevant to the article. Remarks containing abusive and obscene language, personal attacks of any kind or promotion will be removed and the user banned. Final decision will be at the discretion of the Taipei Times.