Justmake staff questioned over death during surgery
NEGLIGENCE: A prosecutor said that an autopsy would be performed tomorrow, adding that the prosecutors' office is looking into the possibility of pressing charges
Taipei prosecutors yesterday summoned the medical staff of Justmake Plastic Clinic (嘉仕美診所) for questioning over the death of a woman who died at the clinic during a plastic surgery operation on Tuesday.
The case received extensive media attention, since the director of the clinic is Lee Jin-liang (李進良), a prominent plastic surgeon married to entertainer Hu Ying-chen (胡盈禎), who is the daughter of celebrity show host Hu Chih-hsiung (胡自雄), better known by his stage name "Hugua" (胡瓜).
Coroners and officials from the Taipei District Prosecutors' Office conducted a preliminary examination of the body of the deceased — a Hong Kong woman surnamed Ma (馬) who died aged 52 — at Taipei's Cathay General Hospital.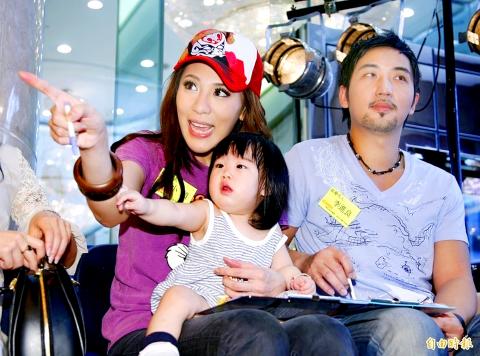 Entertainer Hu Ying-chen, her husband, plastic surgeon Lee Jin-liang, and their daughter Emma Lee are pictured in an undated photograph.
Photo: Sung Chih-hsiung, Taipei Times
An autopsy would be conducted tomorrow, prosecutor Chen Chao-shih (陳照世) said.
Police investigators yesterday examined medical files and documents on the anesthetics and plastic surgery procedures at the clinic.
Ma was accompanied by friends at the clinic during a consultation session on Monday, investigators said.
She paid NT$600,000 by credit card for an operation involving liposuction and fat transfer for breast augmentation, they said.
The operation on Tuesday was reportedly performed by a plastic surgeon surnamed Liu (劉), along with an anesthesiologist surnamed Yeh (葉) and two nurses.
After Ma underwent general anesthesia, she went into shock while the medical team were conducting liposuction, investigators said, adding that the team administered emergency treatment to no avail.
They immediately called 119 for an ambulance to take Ma to hospital, where she was pronounced dead later the same day, the clinic staff said.
Ma's son arrived from Hong Kong yesterday and plans to file a lawsuit against the clinic, investigators said.
Investigators from the Da'an (大安) Police Precinct on Tuesday questioned the surgeon, the anesthesiologist and the two nurses, and took their statements.
The staff said the operation was performed according to proper medical procedures, investigators said.
Prosecutors yesterday also summoned the medical team for questioning, saying that they are looking at the possibly of filing charges of negligence resulting in death.
Lee is known as the plastic surgeon of celebrities and he had been in the news for having extramarital affairs with several women.
Lee and his wife are separated, but are not divorced.
Comments will be moderated. Keep comments relevant to the article. Remarks containing abusive and obscene language, personal attacks of any kind or promotion will be removed and the user banned. Final decision will be at the discretion of the Taipei Times.