'Great wall' against macaques mulled
ELECTRIC DEFENSE: The macaque population is thought to have soared to about 300,00 in past years, but they are not the only ones menacing the agriculture industry
In response to damage caused by macaques, the Forestry Bureau has encouraged flatland farmers to build a "great wall" of electric fences, while an academic has suggested demoting the species' protected status.
The Council of Agriculture has been pushing for building electric fences in demonstration areas to help farmers stop macaques from damaging their crops, Forestry Bureau Deputy Director Yang Hung-chih (楊宏志) said.
The council this year raised the subsidies for installing electric fences from NT$40,000 to NT$45,000, and reduced the land ownership requirement from 1 hectares to 0.2 hectares, Yang said.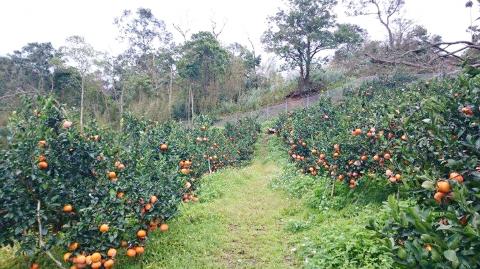 An orchard on Monday is surrounded by an electric fence installed to keep out macaques.
Photo courtesy of the Forestry Bureau
The agency hopes that flatland farmers can collaborate to establish a "great wall" of electrical fences to prevent macaques entering fields in search of food, Yang added.
Electric fences are the most effective method to prevent macaques damaging crops, Tunghai University Department of Life Science professor Lin Liang-kung (林良恭) said, adding that the fences do not hurt the animals.
Although the damage caused by macaques is severe, agricultural agencies have not devoted any personnel to investigate and research the problem, Lin said.
The agencies should determine how many macaques there are, Lin said, adding that if their number overburdens the environment and severely harms the agricultural industry, the agencies could demote the animal from a "protected species" to "general wildlife."
The council said it is evaluating the situation.
Macaques mostly damage banana and sugar apple crops, the council said.
However, there have also been reports of damage to leafy vegetables in the past few years, it said.
"In addition to fruits, the types of crops [that have been damaged] include vegetables, beans and potatoes," Yang said.
Macaques have a mainly vegetarian diet and favor sweet foods, Lin said.
Due to visitors, hikers and other people feeding the animals, the council estimates that the number of macaques has soared in the past few years to between 200,000 and 300,000, Lin added.
In the past decade, 15 cities or counties and 69 townships have experienced crop damage caused by macaques, the council said.
Kaohsiung has reported the most damage, followed by Changhua, Taitung, Nantou and Yunlin counties, it added.
Macaques are not the only problem that needs to be solved, National Taiwan University School of Forestry and Resource Conservation professor Yuan Hsiao-wei (袁孝維) said.
Wild boars, wild ducks, crested mynas and other animals that damage crops require countermeasures so that the environment and the economy can achieve a balance, Yuan said.
Comments will be moderated. Keep comments relevant to the article. Remarks containing abusive and obscene language, personal attacks of any kind or promotion will be removed and the user banned. Final decision will be at the discretion of the Taipei Times.