KMT files complaint with Control Yuan over Taichung expo
The Chinese Nationalist Party (KMT) yesterday filed a complaint with the Control Yuan over the Ministry of Culture's allocation of NT$10 million (US$340,113) from the Executive Yuan's Forward-looking Infrastructure Development Program for an exhibition in Taichung.
The funding allocation might have been due to political intervention from Taichung Mayor Lin Chia-lung (林佳龍), who is a Democratic Progressive Party (DPP) member, the KMT said.
KMT spokesman Huang Chien-hao (黃健豪) filed a case against the ministry on behalf of the party for inappropriate use of the program's budget, which is expected to cost NT$420 billion over four years, accusing Vice Minister of Culture Lee Lien-chuan (李連權) of failing to "properly utilize the budget" and malfeasance of duty.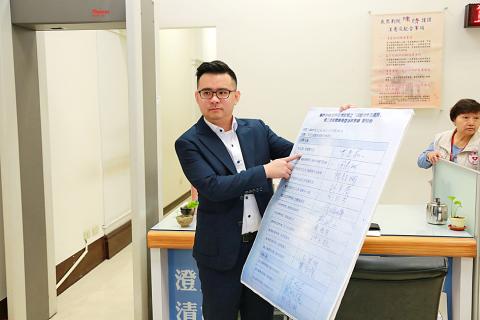 Chinese Nationalist Party (KMT) spokesman Huang Chien-hao files a complaint with the Control Yuan in Taipei yesterday over the Ministry of Culture's use of the Forward-looking Infrastructure Development Program budget.
Photo courtesy of the Chinese Nationalist Party
"The culture ministry's appropriation of part of the development program's budget for a one-time event in Taichung is proof that the government is using the program as a tool to buy political support," Huang said.
After the DPP administration railroaded a special act on the development program through the legislature last year, the Cabinet laid out what the budget would be spent on, including food safety projects, rail construction, digital infrastructure, "green" energy development, urban-rural development and aquatic infrastructure, Huang added.
"Yet, the ministry allowed the Taichung City Government to use the budget to hold an exhibition as part the Taichung World Flora Exposition. What does such an event have to do with the development program?" Huang said.
The exposition, which is to take place from Nov. 3 to April 24 next year, features three exhibition areas in Taichung that aim to rethink the relationship between humans and nature.
The minutes of a meeting on Dec. 14 last year between the ministry, Lee and his wife, Chimei Museum deputy director Patricia Liao (廖婉如), raises the possibility of political intervention in the case, Huang said.
Lin's influence was why the ministry allocated the budget to the city government, he added.
Comments will be moderated. Keep comments relevant to the article. Remarks containing abusive and obscene language, personal attacks of any kind or promotion will be removed and the user banned. Final decision will be at the discretion of the Taipei Times.