Ching Fu workers pan government inaction
OUT OF POCKET: Forty-four former and current Ching Fu employees have applied for mediation regarding unpaid salaries, contract termination and unpaid labor insurance
New Power Party Executive Chairman Huang Kuo-chang (黃國昌) and a dozen former and current employees of Ching Fu Shipbuilding Co (慶富造船) yesterday protested outside the company's headquarters in Kaohisung's Cianjhen District (前鎮) to criticize the government's inaction over the company's failure to pay salaries.
"The company stopped operating a long time ago — now it is just liquidating and hiding its assets," Huang said.
The government should announce that the company is non-operational so workers can apply for wages and severance packages, he said, adding that workers need money for the Lunar New Year holiday.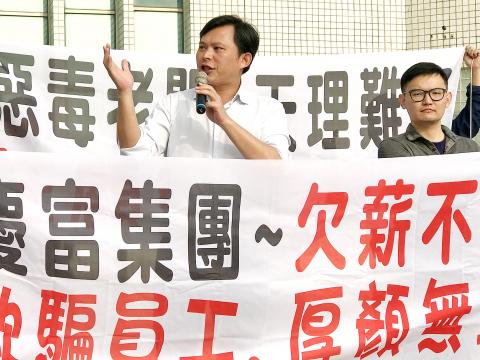 New Power Party Executive Chairman Huang Kuo-chang, left, joins employees of Ching Fu Shipbuilding Co outside the firm's headquarters in Kaohsiung's Cianjhen District yesterday demanding payment of outstanding salaries.
Photo: Huang Liang-chieh, Taipei Times
Last week, the Kaohsiung Department of Labor said in a statement that they cannot determine whether Ching Fu is operational, since the company is in the Export Processing Zone, which falls under the jurisdiction of the Ministry of Economic Affairs.
However, the Export Processing Zone Administration said that the Kaohsiung Department of Labor should be the responsible body, Huang said.
After the protest, Export Processing Zone Administration Deputy Director Yang Po-keng (楊伯耕) and other government representatives tried to enter the offices to carry out an investigation of the company's operations, but were prevented from entering by company spokeswoman Yang Yue-hua (楊月華).
If officials want to determine whether the company is operational, they should carry out their investigation at the company's shipyard in Cijin District (旗津), instead of the offices, Yang Yue-hua said.
Ching Fu chairman Chen Ching-nan (陳慶男) is sincere about paying his employees, but he needs more time, she added.
Chen is suspected of hiring an alleged financial criminal to help hide his assets, Huang added.
Yang Yue-hua, hired last month as Ching Fu's auditing manager, was sentenced to 22 months in prison for her involvement in a NT$500 billion (US$17 billion) fraud case with more than 1,000 victims last year, Huang said.
The Kaohsiung Department of Labor and the Kaohsiung District Prosecutors' Office should search Ching Fu's headquarters to see if they have any employees and determine if the company is hiding any assets, Huang said.
Despite being unable to enter the offices, Yang Po-keng promised to announce the results of the agency's investigation by Monday next week.
Earlier yesterday, Huang and the workers went to the Kaohsiung Department of Labor for a fourth scheduled meeting with company representatives to resolve the issue, but company representatives did not turn up.
The Kaohsiung Department of Labor said 44 former and current Ching Fu employees have applied for mediation regarding unpaid salaries, contract termination and unpaid labor insurance.
The company has already been fined NT$1.9 million for not paying its employees salaries from August to November last year, but it has not paid any of its fines.
If it fails to pay the employees by Wednesday next week, it would be fined another NT$1.5 million, the department said.
Comments will be moderated. Keep comments relevant to the article. Remarks containing abusive and obscene language, personal attacks of any kind or promotion will be removed and the user banned. Final decision will be at the discretion of the Taipei Times.