Labor Amendments: KMT caucus not at fault for unfair amendments: Wu
Chinese Nationalist Party (KMT) Chairman Wu Den-yih (吳敦義) yesterday refused to blame his lawmakers for the failure to block new amendments to the Labor Standards Act (勞動基準法), but urged the KMT caucus to continue to speak for "the grassroots" in the legislature.
Wu made the remarks on the sidelines of a Taipei news conference held by the KMT's youth division a little more than an hour after the amendments cleared the floor yesterday morning after days of intensive protests inside and outside of the Legislative Yuan.
Several KMT lawmakers bowed to apologize to workers after the bill passed its third reading.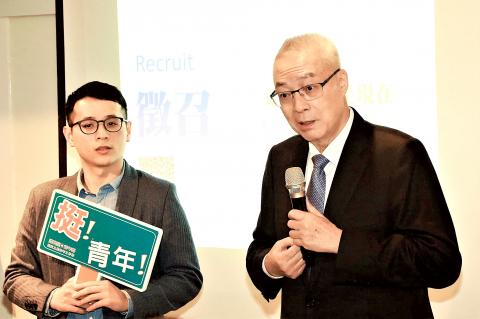 Chinese Nationalist Party (KMT) Chairman Wu Den-yih, right, criticizes newly passed amendments to the Labor Standards Act at a news conference in Taipei yesterday.
Photo: CNA
The amendments relax the limit on the number of consecutive work days from six to 12, raise the maximum monthly overtime hours from 46 to 54, and shorten rest time between shifts from 11 hours to eight for certain industries.
Asked if the KMT, as the largest opposition party, failed to perform well during the hours-long review of the bill, which had begun on Tuesday afternoon, Wu said: "I could not say so."
"When the KMT enjoyed a majority in the legislature, we never resorted to a heavy-handed approach and always respected the voices of minority groups," Wu said, adding that the nation had been peaceful and prosperous under the leadership of a reasonable ruling party.
However, now the KMT only holds 35 of the legislature's 113 seats after one of its lawmakers was suspended after being convicted of graft, Wu said, referring to KMT Legislator Chien Tung-ming (簡東明), who was sentenced in June last year to five-and-a-half years in prison for vote-buying.
"That is why the KMT caucus cannot turn the situation around at the legislature, but party lawmakers must speak for those who are at the bottom of society," Wu said.
"That way, even though we might not win in the legislature, we stand a chance of winning back voters' hearts and possibly the year-end local elections and the 2020 presidential race," he said.
Expressing regret that the amendments failed to achieve social fairness, Wu said a minimum of eight hours of rest was a basic human need, but workers could now end up getting only five hours sleep per day if their commute times were factored in.
The Democratic Progressive Party caucus, despite its majority, should not have forced a bill that could aggravate the problem of overwork through the legislature, Wu added.
Comments will be moderated. Keep comments relevant to the article. Remarks containing abusive and obscene language, personal attacks of any kind or promotion will be removed and the user banned. Final decision will be at the discretion of the Taipei Times.