Kinmen features one nation on each side of the street
Kinmen's Mofan Street (模範街) has become a new sightseeing spot for tourists from across the Strait after it was decorated with a sea of flags of both the Republic of China (ROC) and the People's Republic of China (PRC).
Local residents might fly the national flag during Double Ten National Day, but during the New Year holiday the street, which was built in 1924, was lined with national flags on one side and Chinese flags on the other. Many visitors were seen taking pictures and sharing them on social media.
Two Chinese visitors from Xiamen in China's Fujian Province said it felt good to see their country's familiar five-star flags.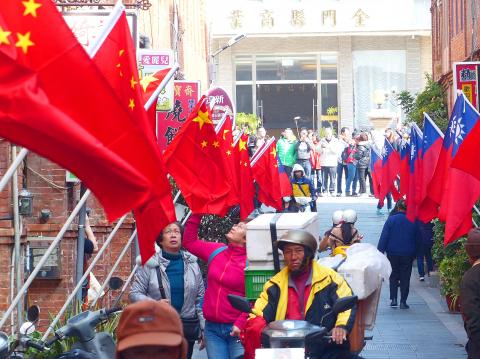 People yesterday look at Republic of China "white sun" and People's Republic of China "five star" flags displayed along the two sides of Mofan Street in Kinmen County's Jincheng Township.
Photo: Wu Cheng-ting, Taipei Times
The two flags facing one another on the street "symbolize that the two sides of the Strait can coexist and prosper together," a Taiwanese surnamed Lee (李) said.
Some tourists have compared the street with Panmunjom — the joint security village located between South Korea and North Korea where the 1953 Korean Armistice Agreement that ended fighting in the Korean War was signed.
While many residents said they did not know who first put up the Chinese flags, Dongmen Borough (東門里) Warden Tsai Hsiang-kun (蔡祥坤) said the idea was broached by local ceramic artist Wang Ming-tsung (王明宗).
The motive was quite simple at the onset, Tsai said: to boost local economic activity.
Hanging two flags side by side is a form of installation art and a creative idea, Wang said, adding that more Chinese than Taiwanese visit Kinmen nowadays.
The question of whether the flags are symbolic of "one nation on each side [of the Taiwan Strait]" or "one country, two systems" (一國兩制) is on many visitors' minds, Wang said.
Wang and Tsai said they were delighted to see the street invigorated by tourists and the flags would remain there until the Lunar New Year in February.
However, they called on visitors not to drive cars into the street.
Comments will be moderated. Keep comments relevant to the article. Remarks containing abusive and obscene language, personal attacks of any kind or promotion will be removed and the user banned. Final decision will be at the discretion of the Taipei Times.