PROFILE: Brand plugs writing characters
THE BEAUTY: People should relearn how to handwrite characters, Write Time CEO Chu Chia-ching said, and rediscover the culture of traditional Chinese characters
Along with several calligraphy artists, Chu Chia-ching (竺佳慶), 33, has created a handwriting culture brand, Write Time (手寫時光), to promote the writing of traditional Chinese characters to the rest of the world.
Chu said that when he was a student, he was very interested in making money.
He majored in electrical engineering at National Chung Hsing University, and while his classmates were studying theory or doing experiments, he was working part-time and signed up for finance classes to learn how to invest, he said.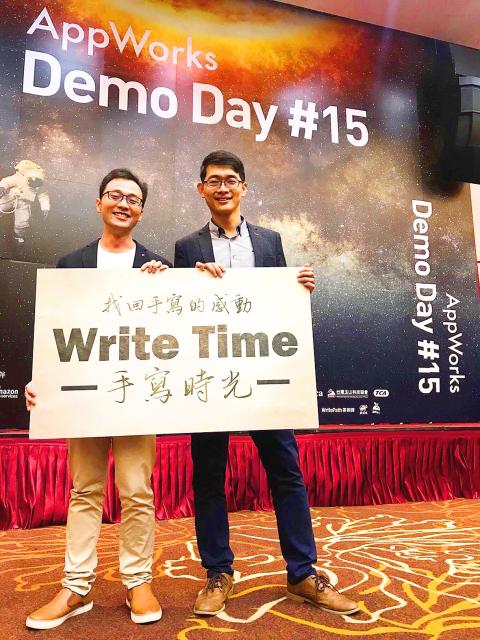 Write Time CEO Chu Chia-ching, left, and calligrapher Yeh Yeh hold a sign incorporating Yeh's fountain-pen characters at the AppWorks Demo Day in Taipei's Xinyi District on Nov. 9.
Photo courtesy of Write Time
After graduating, he became an engineer and although his salary was already relatively high, he traded stocks and futures contracts, quickly earning several million New Taiwan dollars, he said.
His good fortune did not last, Chu said, adding that later on, he accumulated a debt of several million NT dollars.
During that time, he felt completely lost and helpless, Chu said.
He often ate only bread so that he could pay off his debt more quickly, he said, adding that the experience inspired him to reconsider the meaning of life.
At the time, calligraphy had become a local trend and a friend of his, calligrapher Yeh Yeh (葉曄), shot to fame, Chu said.
He practiced calligraphy with Yeh and after it helped his mind to calm, many of his beliefs changed, he said.
"The deeper my understanding, the more I discovered that the beauty of traditional Chinese characters is unique to Taiwan," he said.
Chu began shooting videos to promote handwriting culture, used them to launch free online lessons and designed handwriting-related products, he said.
In the beginning, it was a difficult task and not many people responded, Chu said, adding that there were even friends who laughed at him, doubting that there would be a market for handwriting-related products and suggested that he focus on figuring out how to pay off his debt.
He did not give up, Chu said, but instead looked into why promoting handwriting had been so difficult.
He realized he needed to view things through other people's needs, Chu said, adding that people would become interested in handwriting when they received easy-to-use tools and paper, and experienced the beauty of handwriting.
He searched for artists who were willing to collaborate with him and tested more than a hundred pens and different kinds of paper, Chu said.
He designed a multifunctional practice sheet notebook — which included letter-tracing grids on alternate lines, handwriting tips and QR codes linked to handwriting videos — and other creative promotional materials that proved to be popular, Chu said.
His designs successfully marketed his products to Hong Kong, Macau, China, Malaysia, Singapore, the US and elsewhere, Chu said.
To promote the writing of traditional Chinese characters, he took marketing classes related to culture and creativity, consulted with others on entrepreneurship and even sent calligraphers overseas, Chu said.
Last month, Write Time participated in AppWorks Demo Day, an event held by Taipei-based venture capital firm AppWorks Ventures twice a year. At the event, businesses pitch their ideas to an audience of more than 1,000 investors, potential partners and the media.
Write Time has worked with international brand Pierre Cardin's stationery department and received government funding, Chu said.
His latest goal is to improve his own penmanship, he said, adding that most people today use computers and forget that writing is an indispensable basic skill.
When he can write well, he can inspire people to relearn how to write and rediscover the culture of traditional Chinese characters, Chu said.
Through the use of words, he wants to continue to promote the "Made in Taiwan" brand to the rest of the world, Chu added.
Comments will be moderated. Keep comments relevant to the article. Remarks containing abusive and obscene language, personal attacks of any kind or promotion will be removed and the user banned. Final decision will be at the discretion of the Taipei Times.