More sports associations open memberships
The number of sports associations that have agreed to accept individual membership applications rose to 47 as of Wednesday, the Sports Administration said yesterday.
Memberships were only open to groups prior to the amendment of the National Sports Act (國民體育法), which was promulgated by President Tsai Ing-wen (蔡英文) on Sept. 20.
The new rules require sports associations to revise their organizational rules, hold board elections and accept individual members within six months of the amendment's promulgation.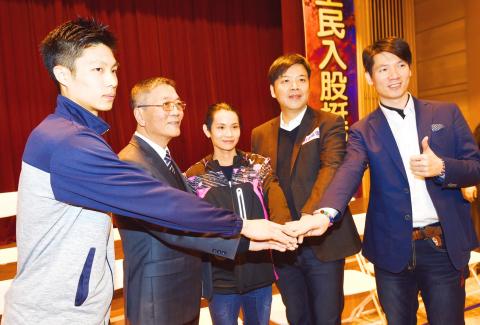 Sports Administration Director-General Lin Te-fu, second left, and badminton players Tai Tzu-ying, center, Chou Tien-chen, left, and others pose for a group photograph at a news conference in Taipei yesterday.
Photo: Chien Jung-fong, Taipei Times
Members can now directly participate in the election of association chairmen.
The agency has been accepting individual applications on behalf of different sports associations during the first half of the six-month period to give the associations time to revise their rules.
Wednesday was the last day of the first stage that people can file their applications with the agency.
As of 9pm on Wednesday, 47 of the nation's 72 sports associations have agreed to take the applications that the agency accepted on their behalf.
A total of 174,596 people have filed for individual memberships, the agency said.
The five sports associations that received the highest number of applications were the Chinese Taipei Swimming Association (19,441), followed by the Chinese Taipei Football Association (19,271), the Chinese Taipei Badminton Association (18,598), the Chinese Taipei Baseball Association (11,382) and the Chinese Taipei Golf Association (10,550).
Eight athletes, including women's world No. 1 badminton player Tai Tzu-ying (戴資穎), the nation's No.1 road and track bicycle racer Hsiao Mei-yu (蕭美玉) and former national volleyball player Huang Pei-hung (黃培閎), have indicated that they are interested in running for board directors to represent athletes in their associations.
Associations are now required to have active or retired athletes comprise at least one-fifth of their board of directors, Sports Administration Director-General Lin Te-fu (林德福) said.
Directors who are athletes can better speak for athletes and protect their interests, he said.
As to the 25 sports associations that have not indicated whether they would accept individual members, Lin said they are still working toward having their organizational rules revised and approved by their boards and members' assemblies.
For these associations, the deadline would be seven days after their revised organizational rules were available for public view, he said.
With about 110,000 people filing their applications within just one week, there has been speculation that some people joined the associations to help certain members get elected into management positions.
Addressing the allegations, Lin said many interested candidates are likely to wait until the last minute to announce their intention to run for director.
"People planning to run for board directors would mobilize supporters over the Internet, which is inevitable," he said, adding that such allegations would be difficult to verify.
Asked if the requirement for the associations to accept individual members clashes with FIFA and Asian Football Confederation (AFC) rules, Lin said that the Chinese Taipei Football Association would first have the revised organizational rules approved at its members' assembly.
"The revised rules would then be translated into English and we will have FIFA and AFC comment on them," he said.
"The association would not hold board elections right away," he said.
"We respect both the Chinese Taipei Football Association and FIFA. Should the two fail to come to an agreement, we would respect FIFA," Lin said.
Comments will be moderated. Keep comments relevant to the article. Remarks containing abusive and obscene language, personal attacks of any kind or promotion will be removed and the user banned. Final decision will be at the discretion of the Taipei Times.