Celebrated leather artist opens solo show
The first solo exhibition of Chang Wen-yan (張文彥), an award-winning leatherworker, opened on Saturday at Tainan's Sinying Cultural Center (新營文化中心).
Chang, 31, said he began carving leather five years ago when he wanted a leather wallet and wondered: "Why not make one myself?"
Chang said he fell in love with the craft and later studied under leatherworker Wang Wei-ming (王維明).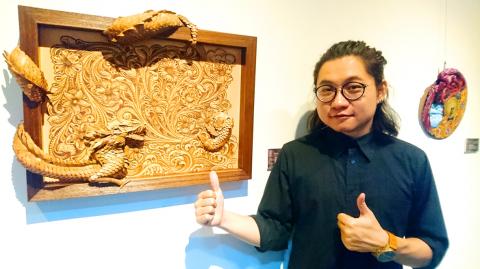 Leatherworker Chang Wen-yan stands by his prize-winning piece titled Fish Leaps Over the Dragon Gate on the opening day of his solo exhibition at the Sinying Cultural Center in Tainan on Saturday.
Photo: Yang Chin-cheng, Taipei Times
Chang now has his own studio on Tainan's Jhengsing Street.
However, Chang said that his junior-high school teachers often admonished him because he enjoyed art and workshop classes, but was viewed as a bad student who did not like to study.
In his third year of junior-high school, he was reassigned from the upper-tier to the lower-tier class for no reason he could discern, but never gave up on himself, Chang said.
He studied art and design at a vocational school, then went on to study product design in college and designed eyewear at a factory after graduation.
Last year, Chang came in third in the pictures category at the World Leather Debut, but did not stop there, either.
He in February won first place at the Southwest Leather Workers Trade Show's leather carving contest in Prescott, Arizona, then in May won first place in the pictures category, second place in the stand-alone (tooled) category and third place in the untooled items category at the World Leather Debut.
Chang's work, which incorporates traditional Taiwanese elements, has also been featured on the cover of Leather Crafters & Saddlers Journal.
The exhibition is to run until Jan. 21 and showcases 25 of Chang's works, including award-winning and new pieces.
Comments will be moderated. Keep comments relevant to the article. Remarks containing abusive and obscene language, personal attacks of any kind or promotion will be removed and the user banned. Final decision will be at the discretion of the Taipei Times.