Students use game, 'kuso' culture to promote Hoklo
'WHAT THE HELL ARE YOU SAYING?' The card game and videos use popular online spellings of Hoklo words and focus on words like 'midterms' and 'Singles' Day'
A group of university students is popularizing the study of the Hoklo language (commonly known as Taiwanese) among young people through Facebook and YouTube.
The group, called Taiwanese Kids, hopes to capitalize on the kuso Internet phenomenon (derived from the Japanese word meaning "crap," which in Taiwan refers to camp and parody) to popularize Hoklo using videos and table-top card games that incorporate humorous language, the students said.
Lu Kuan-ming (盧冠名), who is a member of Taiwanese Kids and a National Chengchi University student, said he and other members grew up Hoklo-speaking households.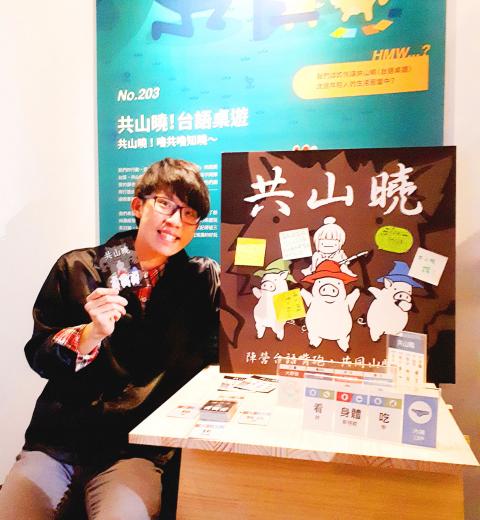 Lee Tsu-yuan demonstrates the Gong Shan Xiao card game for learning Hoklo, commonly known as Taiwanese, at an exhibition in Taipei on Sunday.
Photo: CNA
They discovered after speaking with fellow university students that many Taiwanese are unable to speak Hoklo fluently, Lu said.
Young people feel there is no place to use Hoklo in their everyday lives and that they would not be able to connect with their peers if they speak it, he added.
Content for the group's videos center on vernacular heard in places like food markets, he said.
The group also focuses on expressions common among younger people like "midterm test" and "Singles' Day," Lu said, adding that they hope to mix Hoklo with other popular language to develop a "youth Hoklo culture."
Video is an effective format, because people can use their visual and aural senses, Lu said.
Aside from being entertaining, the videos present new language through storytelling, Lu said.
The group hopes its videos can be used in formal Hoklo education, as the content would appeal more to young people than traditional curricula, Lu said.
Another group of university students is promoting Hoklo through a card game titled Gong Shan Xiao (共山曉), which is homophonous with the Hoklo expression "What the hell are you saying?"
Young people do not learn Hoklo, not because of a lack of interest, but because there is no way to get started, group member Lee Tsu-yuan (李祖源) said.
"I was raised by my Hoklo-speaking grandmother in Yilan, but when I moved to Taipei for school, I no longer had the chance to speak it. When I returned to Yilan, I could not speak it fluently like I could as a child," Lee said.
The group created a card game to encourage people to speak Hoklo, Lee added.
The game uses popular Internet spellings of Hoklo words and aims to make the language easier to remember by having players guess the answers to Hoklo-related questions, Lee said.
For example, the character for "shrimp" (蝦) is used to write the Hoklo word for "what," which is pronounced the same way.
Lee said he was convinced of the idea after eating with a friend who previously knew no Hoklo, but was able to, over the course of the meal, tell everyone using the language that he saw a fly.
The group has also plans to develop classroom curricula that would incorporate the use of smartphones, he said.
Comments will be moderated. Keep comments relevant to the article. Remarks containing abusive and obscene language, personal attacks of any kind or promotion will be removed and the user banned. Final decision will be at the discretion of the Taipei Times.