Cabinet asks China to curb pollution as air quality worsens
The Cabinet has urged China to control its air pollution, as pollutants from across the Taiwan Strait are the main cause of the nation's deteriorated air quality during winter.
The public has targeted power plants as major contributors to air pollution, but the seasonal fluctuation in air quality shows that power plants are not the main culprit, Cabinet spokesman Hsu Kuo-yung (徐國勇) said.
Peak air pollution during winter coincides with weather fronts from China, which bring one-third of the nation's air pollution during the season, Hsu said.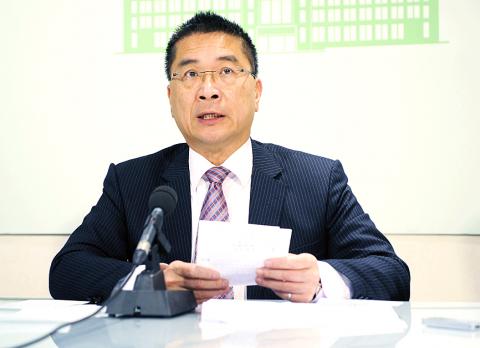 Cabinet spokesman Hsu Kuo-yung talks to reporters in Taipei yesterday after attending a forum on air pollution.
Photo: Chen Chih-chu, Taipei Times
"I am not blaming China. I am asking it," he said, calling on Beijing to work with Taiwan and its other neighbors to reduce pollution.
Associating major power plants with peak winter pollution is erroneous, as plants often run at low capacity during the winter, he said.
The air quality in Kinmen and Matsu counties, where there are fewer power plants and factories, is visibly worse in winter due to the islands' proximity to China, he said.
Meanwhile, Premier William Lai (賴清德) yesterday met with mayors and county commissioners in central and southern Taiwan to discuss pollution prevention measures to reduce pollutants generated domestically.
Lai asked local governments to enforce seven pollution prevention measures: replacing aging boilers, requiring restaurants to install fume extractors, offering centralized incineration services to burn joss paper, controlling construction dust, preventing the burning of rice straw, containing dust and renovating diesel trucks, Hsu said.
During the meeting, some local governments asked the Cabinet to lower the license expiration period for power plants from five to two years to allow governments more control over the plants, Hsu said.
The Cabinet on Monday proposed lowering the expiration period to three years as part of its revision to the Air Pollution Control Act (空氣污染防制法), while separate regulations can be made to accommodate the needs of local governments regarding power plant regulations, Hsu said.
Comments will be moderated. Keep comments relevant to the article. Remarks containing abusive and obscene language, personal attacks of any kind or promotion will be removed and the user banned. Final decision will be at the discretion of the Taipei Times.