Former president Lee continues to support Mayor Ko
Former president Lee Teng-hui (李登輝) yesterday expressed continuing support for incumbent Taipei Mayor Ko Wen-je (柯文哲) at a fundraising dinner held by the Taiwan Association of University Professors in Taipei yesterday.
Ko, an independent, won the 2014 Taipei mayoral election with the backing of the pan-green camp.
However, he has since raised the ire of some of its members after a speech at the 2015 Taipei-Shanghai forum in China in which he described cross-strait relations as "one family."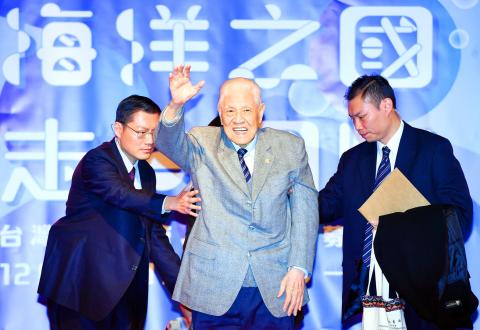 Former president Lee Teng-hui waves to attendees at an annual fundraising dinner of the Association of Taiwan University Professors in Taipei yesterday.
Photo: Liao Chen-huei, Taipei Times
Among those attending the dinner yesterday were Taiwanese independence pioneer Su Beng (史明), Wu San Lien Foundation for Taiwan Historical Materials vice chairman Wu Shu-min (吳樹民), and Democratic Progressive Party Policy Research and Coordinating Committee deputy director Tung Chien-hung (董建宏).
Addressing attendees as mostly "Taiwan independence supporters," the master of ceremonies, political commentator Cheng Hung-yi (鄭弘儀), said: "Please raise your hand if you oppose the idea of both sides of the Taiwan Strait being 'one family.'"
All attendees raised their hands.
Cheng then asked those who voted for Ko in 2014 to keep their hands raised, and Lee — a Taoyuan resident — lowered his hand.
"Those who still support Ko please keep your hands raised," Cheng said, to which most attendees lowered their hands, except for Lee who raised his hand again.
"Who supports me?" Cheng then asked.
Lee laughed, keeping his hand raised.
While later speaking at the dinner, Lee emphasized his view that changing the Constitution is the only path forward for Taiwan. He said this will require consensus from all parties.
Lee called on people of all levels of society to abandon their ideological rivalries and unanimously urge the government to work toward constitutional reform. Taiwan must prevent China from swallowing it up, he added.
Ko yesterday declined to speak in response to media queries for comment on Lee's support.
Additional reporting by Lee I-chia
Comments will be moderated. Keep comments relevant to the article. Remarks containing abusive and obscene language, personal attacks of any kind or promotion will be removed and the user banned. Final decision will be at the discretion of the Taipei Times.