Teen to exhibit photos of Amis in his hometown
When he first started to document stories of homeless people in his town through photography, Chen Po-jui (陳浡濬) simply wished to show a group of people that he felt was similar to him.
Now 19 years old, Chen has accepted an offer to work with internationally renowned photographer Zung, the go-to photographer of Malaysian high society, and is to hold his first personal photo exhibition in his hometown of Yilan on Dec. 2, in which he hopes to present to the world the unique beauty of the Aboriginal culture of the Amis people in Taiwan.
Chen was introverted during junior-high school, which greatly affected his social interaction with classmates, he said.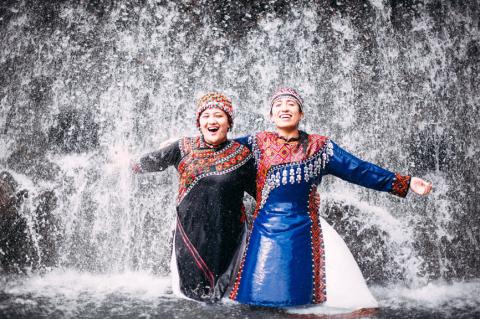 Amis Aborigines pose for a picture in an undated photograpth taken by documentary photographer Chen Po-jui.
Photo provided by Chen Po-jui
He talked with people who were homeless and was moved to tears by their experiences, so he decided to record their stories through photography, he said.
He gained a sense of accomplishment by taking photographs and became more open and willing to converse with others, Chen said, adding that he began taking on photography jobs after entering high school and was hired at Zung's workshop after graduation.
Since working with Zung, Chen has traveled to all major continents except for Africa, he said, adding that he is eager to hold his first exhibition.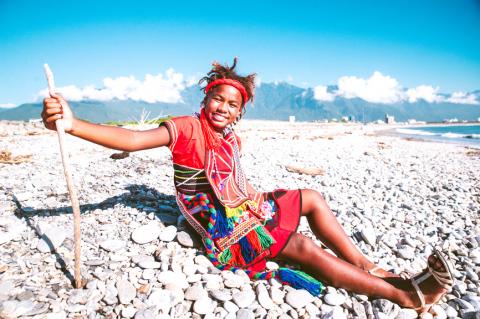 An Amis Aborigine poses for a picture in an undated photograph taken by documentary photographer Chen Po-jui.
Photo provided by Chen Po-jui
Having had the experience of staying out all night in 7°C weather on the streets of South Korean cities to photograph soon-to-vanish ghettos, Chen said he had no difficulties in preparing the photos for his exhibition in less than one month, even under the pressure of impending typhoons.
Chen in August began to take photographs of the main theme of his exhibition — the culture of the Amis people.
"The cultures of Taiwanese Aborigines are quite breathtaking, but knowledge of many dances, clothing styles and even languages are fading with the passing of the older generation," Chen said.
"Photography is my life," Chen said, adding that he enjoys sharing people and cultures of all walks of life.
The exhibition is to take place at the Bambino Ice Cream Parlor in Yilan County's Jiaosi Township (礁溪), starting at noon and ending at 9pm.
Having chosen his hometown as the site for his first exhibition, Chen promised that he would hold future exhibitions there to capture various themes framed by the town's natural scenery throughout the year.
"I want to let more people know about my hometown and to preserve its rustic beauty for eternity," Chen said.
Comments will be moderated. Keep comments relevant to the article. Remarks containing abusive and obscene language, personal attacks of any kind or promotion will be removed and the user banned. Final decision will be at the discretion of the Taipei Times.