Clamping down on illegal structures is city's duty: Ko
The government must enforce demolition of illegal structures, starting with those that pose a direct threat to public safety, Taipei Mayor Ko Wen-je (柯文哲) said yesterday.
A deadly fire at an apartment building in New Taipei City's Jhonghe District (中和) that killed nine people and injured two on Wednesday has reignited discussions about the threat posed to public safety by illegal rooftop structures and modifications.
The fire raged on the fourth floor of the building and an illegal addition on the roof, both of which had been divided into small rooms using wooden dividers.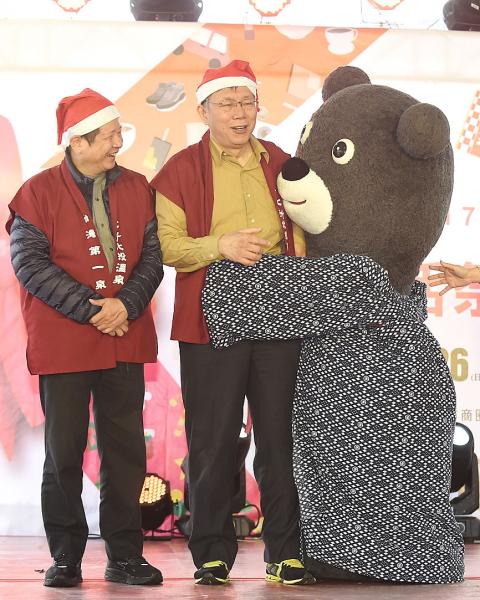 Taipei Mayor Ko Wen-je is hugged by Taipei mascot Bravo the Bear at an event in Taipei yesterday.
Photo: Liu Hsin-de, Taipei Times
"The deadly fire raised questions about the safety of illegal structures and the Taipei City Government must deal with these questions seriously," Ko wrote on Facebook on Friday evening.
The city government launched the "226 special project" three years ago, committing to tearing down 226 illegally built structures within three months, and last month it announced the "208 rooftop special project," requiring that owners make improvements to 208 rooftop additions before Nov. 15 or face compulsory demolition, Ko said.
Most building owners have conformed to the order, he added.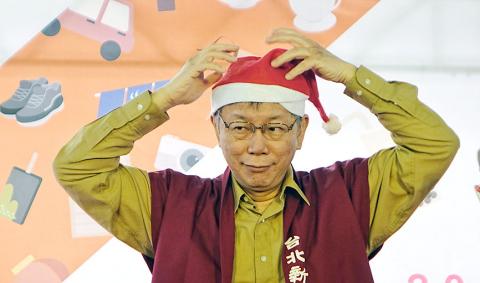 Taipei Mayor Ko Wen-je puts on a Santa Claus hat at an event where he gave Christmas presents to children.
Photo: Liu Hsin-de, Taipei Times
"This is the consequence of collective behavior through history," Ko said yesterday morning while attending an event in Qixing Park (七星公園), where reporters asked him to comment on the demolition of illegal structures.
"We would have certainly dealt with them immediately if there were only a few instances, but, to the government's knowledge, more than 20,000 households live in illegal structures, which therefore cannot easily be demolished in the short term," he added.
Ko said the city would prioritize dealing with illegal structures, fast-tracking those that pose a threat to public safety for demolition.
"The nation has to exercise its public authority and the government must fulfil its obligations," he said. "It is clear that illegal structures that endanger public safety must be torn down."
Asked whether he was worried that owners of illegal structures would block police and government officials from fulfilling their duties, forcing them to break into people's homes, Ko said that the government's authority would be checked, but when people's lives are at stake, it is the government's duty to act.
Comments will be moderated. Keep comments relevant to the article. Remarks containing abusive and obscene language, personal attacks of any kind or promotion will be removed and the user banned. Final decision will be at the discretion of the Taipei Times.