Chicken pox enters peak season
The nation has entered the peak season for chicken pox, the Centers for Disease Control (CDC) said yesterday, adding that 833 chicken pox cases were reported last week, the highest weekly number of reported cases this year.
CDC physician Huang Wan-ting (黃婉婷) said chicken pox is a highly contagious disease caused by the varicella zoster virus, has an incubation period of two to three weeks and can be spread from person to person through direct skin contact, airborne droplets, or fluids discharged from the blisters caused by the disease.
Infants younger than one, pregnant women and adults with immune system deficiencies are high risk groups for chicken pox complications, including viral pneumonia and encephalitis, Huang said.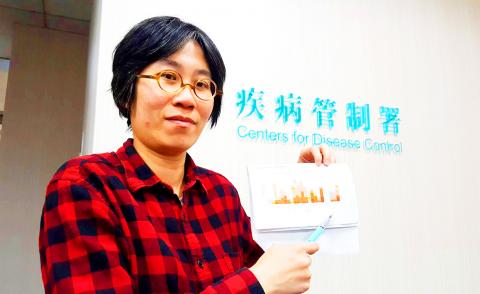 Physician Huang Wan-ting of the Centers for Disease Control (CDC) points at a chart showing chicken pox cases during a news conference at the CDC head office in Taipei yesterday.
Photo: CNA
Chicken pox usually occurs in late winter and early spring, and since 2004 government-funded vaccinations have been administered to infants younger than one, Huang said, adding that the protective capability of the vaccine gradually declines over two to five years.
Young children can still contract chicken pox in elementary school, where they are exposed to other children.
CDC disease monitoring data showed that reported chicken pox cases have been increasing over the past three weeks and the majority of patients were children and adolescents younger than 19.
Huang said people who have had chicken pox usually develop antibodies and become immune to the disease, but those who have not been infected and are among the high-risk groups should get vaccinated a second time.
The CDC said 52 clusters of chicken pox cases were reported this year, and eight among the nine clusters reported in the past four weeks were in schools, so the centers urged people with suspected chicken pox symptoms to wear a mask and seek medical attention immediately, and rest at home and maintain good personal hygiene if diagnosed with the disease.
Comments will be moderated. Keep comments relevant to the article. Remarks containing abusive and obscene language, personal attacks of any kind or promotion will be removed and the user banned. Final decision will be at the discretion of the Taipei Times.