FEATURE: Foodie cred given Michelin boost
From streetside stalls dishing out NT$30 (US$1) bowls of braised pork rice to upscale eateries tucked away in quiet alleyways, Michelin inspectors are scouring Taipei selecting restaurants for its first-ever guide.
Taiwan's reputation among in-the-know travelers as a foodie paradise will be further burnished when Taipei becomes the latest Asian city to have its own Michelin guide in the first quarter of next year.
Best-known for its night markets and fresh local ingredients, Michelin says the city's street food could make the grade alongside higher-end restaurants, as it has in the Hong Kong and Singapore editions.
A chef prepares fried pork liver on Oct. 31 at Hsin Yeh in Taipei.
Photo: Sam Yeh, AFP
"You don't need to be in a wonderful place to have extreme quality of ingredients and to have a real personalities of the chef," Michelin spokesman Bruno de Feraudy said. "Exceptional for us is what's happening on the plate and purely on the plate."
Traditionally seen as a posh gourmet compass, budget eats are increasingly recognized by Michelin and have used the prestigious award to build big businesses.
Hong Kong's Tim Ho Wan went from hole-in-the-wall to successful chain while a Singapore hawker awarded a Michelin star last year has grown his soy sauce chicken stall into a franchise.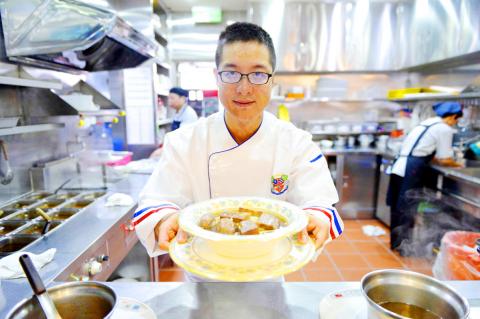 Niu Niu Ba chef Eric Wang shows a bowl of beef noodles that costs NT$10,000 on Oct. 25 in Taipei.
Photo: Sam Yeh, AFP
Taiwanese foodies are speculating that Jinfeng — a corner joint serving NT$30 bowls of rice topped with braised minced fatty pork (lu rou fan, 滷肉飯) — could make the cut.
However, shop manager Wu Su-yan (吳素顏) said she is indifferent and the long queues of tourists and locals speak for themselves.
"Having customers is confirmation enough. We don't need it to be written on a piece of paper to know our lu rou fan is good," she said.
Shin Yeh's five branches in Taipei are packed most nights of the week and the 40-year-old institution hopes Michelin will spotlight the types of traditional dishes it serves, which have fallen out of favor with some young Taiwanese.
Favorites such as pan-fried pork liver cost NT$280 while dark orange slices of roasted mullet roe go for NT$680 a portion, putting its prices well above street snacks, but far below the highest end restaurants.
A thick golden omelet studded with preserved turnip is so popular that Shin Yeh's kitchens have spots reserved just for making the dish, brand director Cybie Fang (方苓) said, with new chefs taking three months to master the recipe.
Fang said the guide might help rebrand Taiwanese cuisine for young domestic consumers, some of whom see Shin Yeh's menu as "too passe."
"No matter how many restaurants get stars, I think it is a big plus for Taiwan," she said.
However, others worry about the burden the stars could bring.
"I will be quite ecstatic for a moment, but there will be enormous pressure for me," said Tony Wang (王聰源), whose restaurant Niu Ba Ba, or "Beef Father," serves up bowls of Taiwanese staple beef noodles for an eye-watering NT$10,000.
It also offers cheaper noodles starting from NT$500, but still manages to sell three of the expensive bowls daily on average.
Wang said the price reflects the quality of the ingredients — he said he spent NT$60 million and years researching different kinds of beef. His recipe uses four types of premium meat, broth made from four kinds of tomatoes and noodles that cost six times the average, because they are kneaded from Japanese flour.
The Michelin guides, first published in France more than a century ago to promote automobile travel, made their first foray into Asia with a Tokyo edition in 2007.
Taiwanese chef Andre Chiang (江振誠) was awarded two Michelin stars for his Singapore restaurant Andre.
However, he announced he would close it in February next year to focus on his high-end Taipei restaurant RAW, which serves up intricate artistic versions of Taiwanese classics and has a months-long waiting list for a table. A set dinner there costs NT$1,850.
However, Chiang said he does not want RAW listed in the Michelin guide, characterizing it instead as a training ground for young chefs.
Several French restaurateurs have relinquished the distinction due to the high pressure of maintaining exacting standards, but de Feraudy said the guide will not exclude a restaurant at a chef's request.
"If there is something exceptional [consumers] could enjoy, we should tell them," he said.
Comments will be moderated. Keep comments relevant to the article. Remarks containing abusive and obscene language, personal attacks of any kind or promotion will be removed and the user banned. Final decision will be at the discretion of the Taipei Times.