Festival brings 'slow living' to Taichung
The annual Sinshe Flower Sea Festival opened on Saturday in Taichung's Sinshe District (新社), with a focus on "slow living," the event host said.
The festival has been held with the Taichung International Flower Carpet Festival since 2011, the Council of Agriculture's Taiwan Seed Improvement and Propagation Station said.
However, the city government last year moved the festival to Houli District (后里) due to overcrowding and traffic problems, Taichung Mayor Lin Chia-lung (林佳龍) said.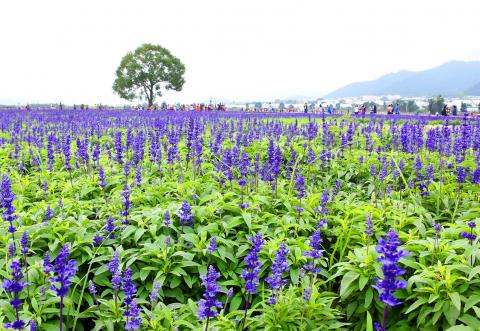 A field of flowers with a lone camphor tree are pictured in Taichung's Sinshe District on Saturday, the first day of the annual Sinshe Flower Sea Festival.
Photo: Lee Chung-hsien, Taipei Times
"Hopefully, the festival will take visitors on a more in-depth travel experience. We want visitors to feel as close as possible to nature and avoid appearing too artificial," he said. "We hope visitors explore the fields with a 'slow travel, slow food and slow living' feeling."
Sinshe is applying for certification from Cittaslow International, which emphasizes quality of life, he said, adding that it is also the planned starting point of the Hakka Romantic Avenue project on Highway No. 3.
By noon on Saturday, 40,000 visitors had attended the 16-day event despite light rain, the station said, adding that by 5pm, the event reached 80,000 visitors, the same amount as last year.
This year's "flower sea" covers about 31 hectares, including an area for visitors to view seed-planting, a display of specialty plants, themed areas and an exhibition space, among others, the station said.
The festival features sunflowers, cosmos, sage flowers and white common buckwheat fields made popular by the South Korean drama Goblin, it added.
There is also an edibles section with hundreds of vegetables and scented plants, it said, adding that the seeds harvested from the rare sorghum field, which is also on display, would be sold to Kinmen.
Comments will be moderated. Keep comments relevant to the article. Remarks containing abusive and obscene language, personal attacks of any kind or promotion will be removed and the user banned. Final decision will be at the discretion of the Taipei Times.