Visually impaired runners set off on 500km relay tour
A group of visually impaired runners on Thursday set off from Taipei on the first leg of a 500km relay that is to end in Kaohsiung.
Tethered to sighted runners, the visually impaired athletes ran 10km on the first leg of the relay, from Taipei's Zhongshan District (中山) to New Taipei City's Sinjhuang District (新莊).
The run is divided into 49 legs, taking the runners through 12 cities and counties along the west coast and finishing in Kaohsiung six days after departure.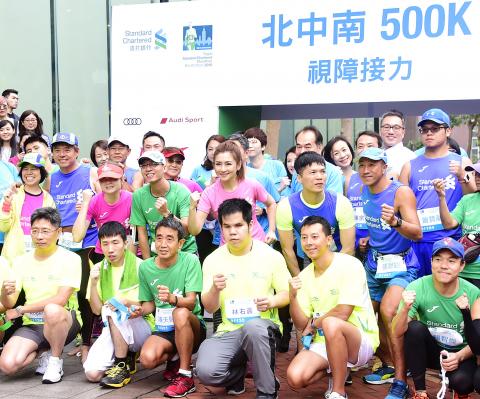 Entertainer Selina Jen, second row center, together with participants of a relay race organized for visually impaired runners, poses for a photo taken on Thursday at a news conference in Taipei.
Photo: Pan Shao-tang, Taipei Times
The event is organized by the Taipei Standard Chartered Marathon, which is scheduled for January next year.
"We want to encourage visually impaired runners across Taiwan, not only in Taipei, to display their courage and persistence," Standard Chartered Bank CEO Anthony Lin (林遠棟) said.
The bank hopes that by giving visually impaired people a chance to publicly show their strength and determination, more job opportunities will become available to them, Lin said.
Next year's Taipei Standard Chartered Marathon is to see at least one visually impaired runner participate.
Shih Ying-chi (石穎芝), a 31-year-old Standard Chartered employee, told reporters that she plans to take part in the 3km fun run category of next year's marathon, accompanied by entertainer Selina Jen (任家萱).
Shih said running tethered to a partner takes a lot of practice, but the effort is worthwhile.
"It is difficult to avoid dangerous situations on the road, so I am relieved that I will be accompanied by someone," Shih said. "Eventually, the two of us will develop an understanding and I will not need words, only a slight pull on the wrist to know there is a bend ahead."
Comments will be moderated. Keep comments relevant to the article. Remarks containing abusive and obscene language, personal attacks of any kind or promotion will be removed and the user banned. Final decision will be at the discretion of the Taipei Times.