Supreme Court delivers final bomber verdict
The Supreme Court yesterday sentenced Lin Ying-chang (林英昌) to a maximum of 30 years and four months in prison for last year's pipe bomb explosion on a train in Taipei's Songhsan Railway Station (松山), that injured 25 people, including himself.
The Supreme Court verdict is final and it largely upheld the duration of the sentences passed by the Taiwan High Court during Lin's retrial on Aug. 1.
The High Court had sentenced Lin to 29 years and 10 months for intended homicide of minors by an adult and making a bomb.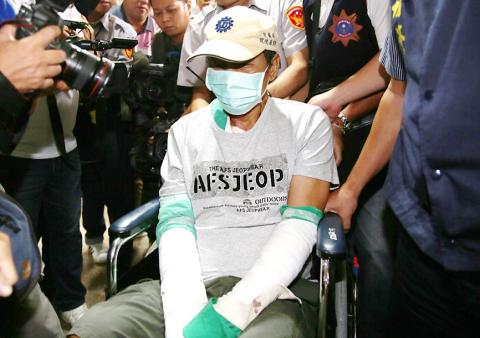 Police officers escort Lin Ying-chang to the Taipei District Prosecutors' Office on July 19 last year.
Photo: Chien Li-chung, Taipei Times
However, Lin will be resentenced at a later date, because the High Court had made legal errors with reference to the intended homicide charge, the Supreme Court said in the news release.
Since the factual basis of the case remains unchanged, judges applied the correct laws to the homicide charge and found no need to alter the sentence, the Supreme Court said.
As a result, on the charge of intended homicide, the judges maintained the sentence of 19 years and 10 months, the Supreme Court said.
Lin was sentenced to 10 years and six months in prison and ordered to pay a fine of NT$300,000 for manufacturing an illegal explosive device, as per the previous ruling, it said.
Lin's defense had argued that his homemade pipe bomb did not meet the legal definition of an explosive device because it was filled with firecrackers.
The Supreme Court rejected the plea, saying the destructive potential of the device was proven by the injury of 24 passengers and substantial property damage.
After prosecutors filed the sentencing recommendation, the court is to combine the two sentences to decide the duration of Lin's imprisonment, which will be between 19 years and 10 months and 30 years, it said.
On July 7 last year, Lin boarded a train in Nantou County carrying a concealed pipe bomb, then transferred to Train 1258 at Banciao Railway Station Station (板橋) in New Taipei City, the Supreme Court said.
When the train arrived at the Songshan station, Lin detonated the bomb with the intention of committing a murder-suicide, which wounded 16 adults, seven minors and himself, the Supreme Court said.
Comments will be moderated. Keep comments relevant to the article. Remarks containing abusive and obscene language, personal attacks of any kind or promotion will be removed and the user banned. Final decision will be at the discretion of the Taipei Times.