Runway crack to be fixed
GROUNDED: In an operation that could affect more than 100 flights, the south runway at Taoyuan airport is to close next week to repair a crack in the pavement
The south runway at the Taiwan Taoyuan International Airport is to be closed for 16 hours next week to repair a crack in the pavement, Taoyuan International Airport Corp (TIAC) said yesterday.
The work could affect more than 100 flights, the company said.
TIAC chairman Tseng Dar-jen (曾大仁) made the announcement at a meeting of the legislature's Transportation Committee in Taipei, when lawmakers questioned the airport company about a report by Chinese-language newspaper the Liberty Times (the Taipei Times' sister paper) on cracks found in the airport's south runway.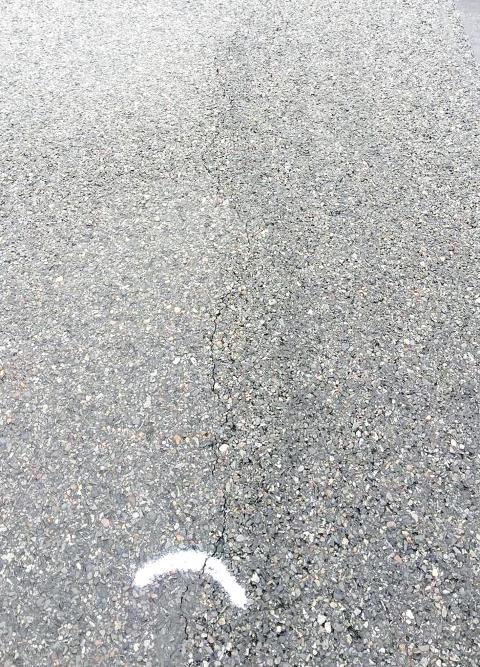 A crack in the pavement on the southern runway at Taiwan Taoyuan International Airport is pictured in an undated photograph.
Photo: CNA, provided by an Internet user
The south runway was opened for operation in January 2015 without first passing an inspection, Democratic Progressive Party (DPP) Legislator Cheng Pao-ching (鄭寶清) said.
The pavement cracks might have resulted from a lack of airport oversight and poor construction quality, he added.
DPP Legislator Huang Kuo-shu (黃國書) asked why the cracks appeared after the renovated runway had been in use for only two years.
The runway is scheduled to be closed on Wednesday next week for repairs, Minister of Transportation and Communications Hochen Tan (賀陳旦) said.
However, Tseng said that the company would have to consult with air traffic control officials before setting a date and time.
It must have been contractor error that caused the pavement to crack, Tseng said, adding that the company would hold the contractor accountable.
The airport company in a statement said that the crack was about 9m long and 2mm wide, rather than the 60m in length that was reported by the media.
A flexible type of pavement has been used on the airport's north and south runways, the company said, adding that the advantage of using this pavement was that repairs only take a maximum of 16 hours.
A rigid type of pavement would require at least 15 days to repair, it added.
The south and north runways were closed for one-year renovations in 2014 and 2015 respectively.
Construction of the south runway was completed in January 2015.
Problems with the south runway first surfaced in October 2015, when an EVA Air aircraft's vertical stabilizer was hit by broken asphalt during its taxi down the runway to take off.
Comments will be moderated. Keep comments relevant to the article. Remarks containing abusive and obscene language, personal attacks of any kind or promotion will be removed and the user banned. Final decision will be at the discretion of the Taipei Times.