Acid victim may lose his sight
PRIVACY: Hsieh's parents issued a statement saying that the family is not permitting photos or recordings, as the hospital department has been inundated by journalists
Doctors yesterday said the main victim of Friday's acid attack at National Taiwan University (NTU) might lose his eyesight despite being in stable condition, as friends and well-wishers continued to offer their sympathies.
NTU students have set up a "blessing wall" at the dormitory building where the attack occurred, placing flower bouquets, gifts and a large banner for people to leave words of encouragement and well wishes for the attack's three victims.
According to preliminary investigations, the attack was carried out by a 25-year-old National Taiwan University of Science and Technology graduate surnamed Chang (張) against his alleged former boyfriend, a 23-year-old NTU graduate student surnamed Hsieh (謝), while negotiating their rough breakup.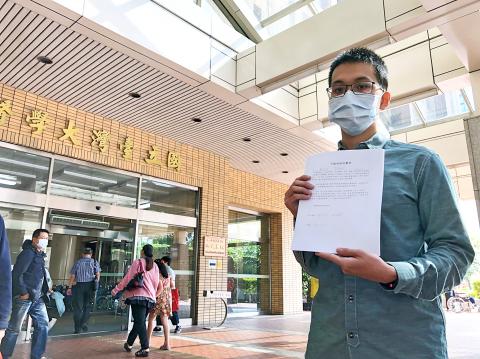 A friend of the Hsieh family holds up a declaration issued by the parents of an acid attack victim outside National Taiwan University Hospital yesterday. The declaration denies permission for any interviews or photographs, and also asks the hospital staff not to provide any information about the patient, on pain of legal action.
Photo: CNA
Another NTU student who accompanied Hsieh to speak with Chang, surnamed Luo (駱), and a security guard surnamed Ku (古) were also wounded when Chang allegedly splashed sulfuric acid on Hsieh.
Chang later stabbed himself and poured acid on his neck.
Based on postings on Chang's and Hsieh's Facebook pages and interviews with their families and friends, investigators believe that the two were romantically involved for more than a year before Hsieh sought to end the relationship.
As the case has attracted much media and public attention, Hsieh's parents yesterday issued a statement saying that they do not permit "being photographed, filmed or recorded, or shown in any form in public media."
They also warned NTU Hospital and its staff against revealing their information to any third party.
The statement was read out by one of Hsieh's friends outside the hospital's Burns Treatment Center where Hsieh is being treated, which has been inundated by journalists.
In a meeting held by NTU authorities after the attack, student representatives asked the school to review its regulations and communication and to implement measures to better ensure campus security.
School officials and students at the meeting also initiated a donation drive after learning that Hsieh is from a low-income family and that Ku is not fully ensured, because she is a part-time worker.
On Saturday, Chang's parents released a statement apologizing to the victims.
"Our son had foolishly chosen a path of mutual destruction because he could not overcome a setback in love. It was an irreparable mistake, one that has caused significant pain, both physically and psychologically, to Hsieh and the other victims, and has aggrieved both families," the statement said.
"We understand that not even 10,000 apologies could undo what our son did," it added.
Comments will be moderated. Keep comments relevant to the article. Remarks containing abusive and obscene language, personal attacks of any kind or promotion will be removed and the user banned. Final decision will be at the discretion of the Taipei Times.