Taichung to open 'green' cemetery
The Taichung City Government has begun construction of a "natural burial cemetery," which it said will provide the municipality's residents with 10,000 sites for tree burials after its expected completion at the end of the year.
Burial methods change with the times and society has moved on from interring and cremation toward natural burials, Taichung Deputy Mayor Chang Kuang-yao (張光瑤) said at the groundbreaking ceremony on Thursday, adding that tree burials are a way to help preserve land.
Traditional burial methods, such as entombing, are taking up an increasing amount of space that could be used by the living.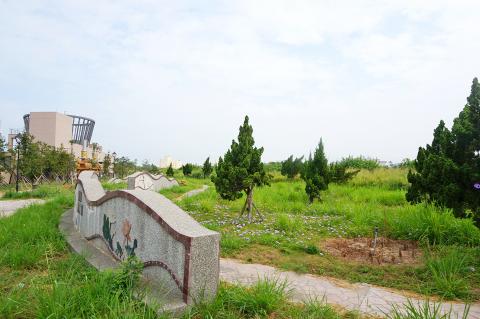 The site for a new public tree burial cemetery in Taichung's Daya District is pictured on Thursday.
Photo: Ou Su-mei, Taipei Times
The new cemetery will give Taichung resident more choices, as the municipality only has one natural burial cemetery, the First Cemetery in Shengang District (神岡), Chang said.
The new cemetery is near a former storage facility in the municipality's Daya District (大雅) and the 18,897m2 plot will have five tree burial areas with a 10,000-person capacity.
However, an increasing number of people are choosing tree burials and up until last month, 817 people have been given tree burials at the Shengang public cemetery.
Additional park space is to be planted with trees and flowers so people have a peaceful space to visit while they pay their respects to their deceased.
A tree burial is an alternative, "green" interment, which means there is no gravestone, no tomb and no mark, the municipal government's Mortuary Services Office director Chen Chih-ming (陳志銘) said.
Once the public cemetery is complete, the five zones would be rotated to ensure sustainable development of the land, Chen added.
Comments will be moderated. Keep comments relevant to the article. Remarks containing abusive and obscene language, personal attacks of any kind or promotion will be removed and the user banned. Final decision will be at the discretion of the Taipei Times.