Sports agency downplays soccer association's fears
MISINTERPRETATION: CTFA secretary-general Chen Wei-jen was reported as saying that the amended act would see the association lose its FIFA and AFC memberships
Membership requirements for sports associations must still be in sync with those stipulated by international sports organizations following the passage of an amendment to the National Sports Act (國民體育法) on Thursday, the Sports Administration said yesterday at a news conference to provide more information on how it planned to enforce the amended act.
The Chinese Taipei Football Association (CTFA) on Thursday said that the amended act requires each sports association to accept individual members, which clashes with regulations stipulated by FIFA and the Asian Football Confederation (AFC).
CTFA secretary-general Chen Wei-jen (陳威任) was reported as saying that the soccer association would lose its memberships of both institutions if it were to accept individual members.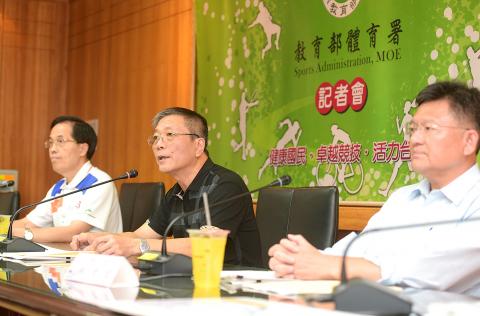 Sports Administration Director-General Lin Te-fu, center, and deputy directors Wang Shui-wen, left, and Lin Che-hung yesterday explain amendments to the National Sports Act at a news conference in Taipei.
Photo: Chang Chia-ming, Taipei Times
In response, Sports Administration Deputy Director-General Lin Che-hung (林哲宏) said Chen had assured him yesterday morning that the association would change its regulations in accordance with the amendment act, adding that the media might have misinterpreted what Chen said.
"The CTFA is a member of FIFA and the AFC, and it must observe the rules stipulated by both organizations. It can communicate with both institutions about its needs to abide by the National Sports Act, but the amended act states that sports associations must follow the rules set by the international sports bodies to which they belong, even if they are not congruent with the related regulations in the National Sports Act," Lin said.
Although the Sports Administration has until February next year to implement the amendment to the act, Lin said the agency hopes to make public the amended regulations by November.
Meanwhile, each sports association must also elect a new management team within the next six months, he added.
Lin also highlighted several crucial reforms, including reinforcing the protection of athletes' rights and changing the way sports associations operate.
Apart from general insurance, athletes would also be covered by short-term disability income insurance for injuries sustained in competitions, Lin said.
"The amended act also states that the selection, training and participation of athletes is to be conducted in a fair, just, transparent and professional manner. This principle governs the distribution of the athletes' allowances and appearance fees. The latter are to be given only when athletes are competing in for-profit competitions," he said.
Based on the amendment, athletes can file complaints or appeal decisions made by sports associations to an appeals committee, Lin said, adding that athletes can also seek arbitration at a special agency set up by the Sports Administration, the Chinese Taipei Olympic Committee and the Republic of China Sports Federation.
The amended act requires associations hosting competitions to have medical professionals on standby to offer treatment to injured athletes. Each association must have an athletes' committee, allowing athletes to express their opinions on various issues, Lin said.
Meanwhile, at least one-fifth of the directors of an association should be athletes, he said.
Financial transparency would be an important requirement of all sports associations, Lin said, adding that their financial accounts are to be audited by professional accounting firms. Their use of government subsidies would also be made public.
The Sports Administration would inspect associations' operations regularly, Lin said, adding that its evaluation reports would be published within three months of an inspection.
Comments will be moderated. Keep comments relevant to the article. Remarks containing abusive and obscene language, personal attacks of any kind or promotion will be removed and the user banned. Final decision will be at the discretion of the Taipei Times.