Netizen sues Taipei mayor over 'bastards' comment
An unidentified netizen is suing Taipei Mayor Ko Wen-je (柯文哲) for libel for calling protesters against pension reform "bastards."
The netizen, a campaigner opposed to pension reform, posted a screenshot on the Professional Technology Temple (PTT), the nation's biggest online bulletin board, showing an e-mail from the Taipei District Prosecutors' Office saying it had received and would process the netizen's criminal complaint of libel against the mayor.
Ko first made the comments at a news conference after protesters on Saturday blocked foreign athletes from entering the Taipei Municipal Stadium for the Taipei Summer Universiade's opening ceremony.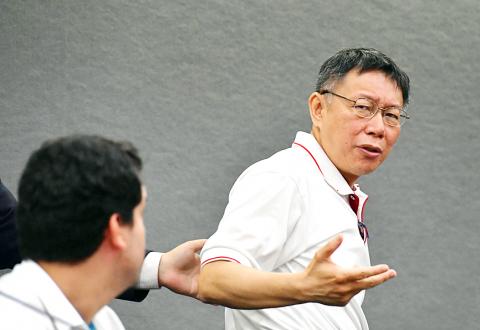 Taipei Mayor Ko Wen-je on Sunday attends a news conference in Taipei where he called protesters against pension reform "bastards."
Photo: CNA
"This is an important national event. You people coming over here to make trouble are bastards," Ko said at the news conference.
Later, a woman surnamed Yang (楊) slammed Ko on Facebook, demanding that the mayor "tell all Taipei residents who the bastard is."
"You and those anti-pension reform groups," Ko replied.
The comment received more than 480,000 likes before Yang deleted it.
It is not clear whether Taipei prosecutors would indict the mayor, lawyer Chen Chun-hsiang (陳俊翔) told the Chinese-language Apple Daily.
Article 309 of the Criminal Code defines libel as an offense that cannot be prosecuted without a complaint from the victim, Chen said.
Members of the public are not entitled to make complaints on behalf of another, Chen said.
When a complaint is filed by someone other than the victim, it is automatically dropped after six months, he said.
Assuming Yang is to press the issue, a prosecutor will have to seek a balance between the protection of a person's reputation extended by the law and the right to free speech, he said.
A prosecutor may decide that Ko's language at the press conference was directed at the actions of the protesters, which falls under the protected category of "fair comment on a fact subject to public criticism," Chen said.
However, a statement on social media accusing people of being bastards could be construed as committing libel in some circumstances, he said.
Comments will be moderated. Keep comments relevant to the article. Remarks containing abusive and obscene language, personal attacks of any kind or promotion will be removed and the user banned. Final decision will be at the discretion of the Taipei Times.