More tainted eggs found at 44 farms: COA
More poultry farms have been found to have eggs tainted with the insecticide fipronil, taking the number of affected farms to 44 in seven municipalities, the Council of Agriculture (COA) said yesterday.
The council, the Food and Drug Administration (FDA), the Environmental Protection Administration and local agencies on Monday established an ad hoc committee to deal with the issue after tainted eggs were found at three Changhua County farms on Sunday.
On Thursday, COA officials said tainted eggs were found at 14 farms, but the number increased to 44 yesterday, with the affected farms in Changhua, Nantou, Chiayi and Pingtung counties, as well as Taichung, Tainan and Kaohsiung.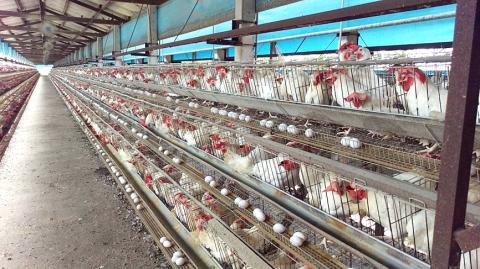 A Pingtung County poultry farm where eggs tainted with the insecticide fipronil have been found is pictured in an undated photograph.
Photo courtesy of Pingtung County Government
As the nation does not have any standards for maximum levels of fipronil residue in food, the COA follows the EU standard of 5 parts per billion (ppb).
The fipronil residue in tainted eggs range from 6ppb at Jiying (吉盈) farm in Pingtung to 153ppb at Liancheng (連成) farm in Changhua, COA data showed.
"About 513,566 eggs have been sealed," FDA Director-General Wu Shou-mei (吳秀梅) said. "We will continue to inspect the eggs sold in retailers connected to the affected farms, with the data expected to be published today."
The number of affected farms increased because tests were conducted at 1,451 farms nationwide, COA Deputy Minister Huang Chin-cheng (黃金城) said, adding that there would be no new additions to the list of affected farms.
"The council has placed a ban on removing chickens or eggs from the affected farms, but the birds will not be culled," he said. "The ban will be lifted once the farms pass follow-up tests."
Meanwhile, two suppliers of agricultural chemicals in Pingtung County were yesterday released on bail after being questioned by prosecutors in connection with the contamination of eggs.
The father and son paid bail of NT$500,000 and NT$300,000 respectively.
The men said they had sold fipronil to chicken farms in Changhua County and other areas, Pingtung District Prosecutors' Office chief prosecutor Chen Yun-ju (陳韻如) said.
Additional reporting by CNA
Comments will be moderated. Keep comments relevant to the article. Remarks containing abusive and obscene language, personal attacks of any kind or promotion will be removed and the user banned. Final decision will be at the discretion of the Taipei Times.