School kids tell of sculptures' origins
Statues of a toad and a black bird at the entrance of a Taoyuan elementary school in Taitung's Yanping Township (延平) have raised questions from curious visitors.
"No toads will be eating bird meat here," school principal Cheng Han-wen (鄭漢文) said, a reference to a Chinese saying describing a person dating or marrying someone out of their league.
Fifth-grade student Langus said the toad is symbolic of tamahudas, or ancestors, in Bunun.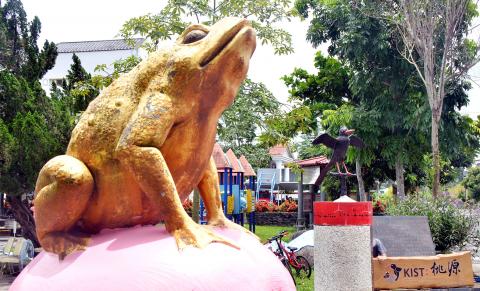 Statues of a toad and a black bulbul flank the entrance to Taoyuan Elementary School in Taitung County's Yanping Township, pictured on Monday last week.
Photo: CNA
The red-mouthed black bulbul symbolizes perseverance, she said, adding that it is a reminder to students not to give up on their studies.
Local legend tells how Bunun people were trapped on Yushan Mountain by flooding, and they became cold and hungry. The community was saved by a toad and a bulbul who volunteered to swim to an opposite peak to get torches, fifth-grade student Savi said.
The once white bulbul was blackened by the smoke and its beak was reddened by the heat of the torches. The bird sacrificed its own interests for the community, Savi said.
Cheng recently hosted an exhibition showcasing the work of local artisans.
"I bared myself in the most sincere way; hosting the event barefoot," Cheng said.
Cheng is often seen walking around school without shoes, students said, adding that he is unconventional like the bulbul and toad.
"Except for on very formal occasions, I don't wear shoes. It lets me feel the warmth of the ground and be more in touch with nature," he said.
People place too much importance on appearances, Cheng said, adding that what is most important is what a person says and their intentions.
The school, built in the Japanese colonial era, has about 100 students and is the latest in the nation to join the national education system. The school's curricula have been modified to fit the unique needs of the Bunun community, Cheng said, adding that it combines a system inspired by the Knowledge is Power Program with Bunun culture.
Comments will be moderated. Keep comments relevant to the article. Remarks containing abusive and obscene language, personal attacks of any kind or promotion will be removed and the user banned. Final decision will be at the discretion of the Taipei Times.