Woman raises NT$1 million for school
FOR THE CHILDREN: Yeh Teng-tzu said that she was driven by memories of economic hardships in her own family to raise money for underprivileged students
An elderly woman in New Taipei City on Monday donated NT$1 million (US$32,833) from her own savings and other sources for underprivileged children at an elementary school in the city.
Yeh Teng-tzu (葉勝子), 78, who last year donated an ambulance to the New Taipei City Government, on Monday made the cash donation to Sinjhuang Elementary School, drawing comparisons from local residents to philanthropist Chen Shu-chu (陳樹菊) from Taitung.
With her children married and working, Yeh spends her days collecting recyclables and volunteering at local temples, government offices and schools.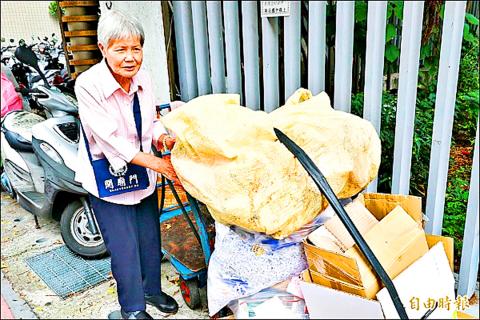 Yeh Teng-tzu, who donated NT$1 million to New Taipei City's Sinjhuang Elementary School on Monday, collects recyclables in an undated photograph.
Photo: Ho Yu-hua, Taipei Times
Yeh said she normally does not return home until 10pm.
Yeh volunteered at Sinjhuang Elementary School as a crossing guard for 20 years, retiring two years ago on the advice of fellow volunteers who worried the work was unsafe at her age.
Yeh said she remained concerned about the students even after giving up her role and in May she discussed with parents and school administrators the issue of arranging a large donation for needy children.
She was driven by memories of economic hardships in her own family, she said, citing the inability to buy her children yearbooks when they graduated from elementary school.
The donation is intended to help disadvantaged children with things such as buying yearbooks and attending graduation trips with their classmates, she said.
Sinjhuang volunteer fire brigade captain Liang Pi-tsun (梁碧村) said that when the two met last year, Yeh asked him how she could acquire an ambulance to donate.
"I told her: 'If you collect the money, someone can help you with the rest.' I never imagined she would persist to the end and [succeed in] donating an ambulance," Liang said, adding that he has been impressed seeing Yeh collecting recyclables as late as 12:30am.
"She is truly an incredible person," Liang added.
School principal Tsai Ming-jo (蔡明若) said Yeh would not relax until the donation was handed over.
"It really left a deep impression on me. The school will be sure to use the money just as she wants," Tsai said.
Taipei Department of Education Commissioner Lin Yi-hua (林奕華) in a statement on Monday thanked Yeh for her selfless contribution.
Comments will be moderated. Keep comments relevant to the article. Remarks containing abusive and obscene language, personal attacks of any kind or promotion will be removed and the user banned. Final decision will be at the discretion of the Taipei Times.