Hospital helps to develop microchip for fetal testing
Cathay General Hospital said it has developed a new class of microchips with the University of California, Los Angeles (UCLA) that might be able to help in noninvasive screening of fetuses for genetic disorders.
Modification to UCLA's NanoVelcro chips — postage stamp-sized devises built with nano wires — might enable them to capture fetal cells in the mother's blood for DNA analysis, according to a paper published on the American Chemistry Society's Nano Web site on Wednesday.
The technology has the potential to allow for the reliable and noninvasive prenatal diagnosis of Down syndrome, Edwards' syndrome, Turner syndrome and other genetic disorders, said co-author Chen Li-ching (陳俐瑾), an obstetrician and gynecologist at the hospital.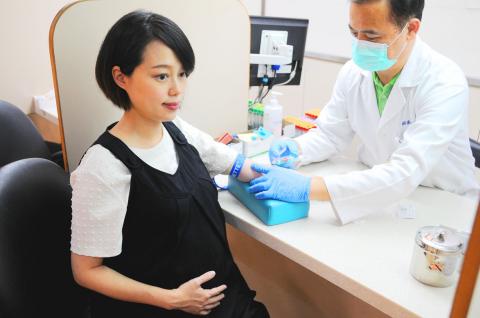 A nurse takes a blood sample from a pregnant woman at a Cathay General Hospital in an undated photograph.
Photo Courtesy of General Hospital
Pregnant women in high-risk groups usually undergo many prenatal tests to check on their fetus' health, and while ultrasound and blood tests are adequate for preliminary screening, doctors have to rely on invasive techniques when fetal abnormalities are suspected, Chen said.
Amniotic fluid tests and chorionic villus sampling are the only reliable tests at present, she said.
Over the past three decades a technique was developed to analyze trace amounts of fetal DNA in the mother's blood, but the test's applicability and accuracy has been limited because of the mixture of maternal and fetal DNA in the samples, Chen said.
Working with UCLA professor of molecular and medical pharmacology Tseng Hsian-rong (曾憲榮), the hospital developed NanoVelcro chips that can enrich fetal cells in maternal blood and capture them for analysis, she said.
Comments will be moderated. Keep comments relevant to the article. Remarks containing abusive and obscene language, personal attacks of any kind or promotion will be removed and the user banned. Final decision will be at the discretion of the Taipei Times.