Cabinet approves bill for human rights museum
ONE MORE STEP: The proposal, which must still pass the legislature, would see human rights parks on Green Island and in Jingmei merged
A draft law to establish a national human rights museum to promote the understanding of Taiwan's authoritarian era and its human rights violations was yesterday approved by the Cabinet.
The museum would be responsible for the collection, research into and display of human rights archives and the management of the human rights parks on Green Island (綠島) and New Taipei City's Jingmei District (景美), the Ministry of Culture said.
The two parks, which were once prisons where political prisoners were incarcerated, would be combined into the "White Terror Memorial Park," it said.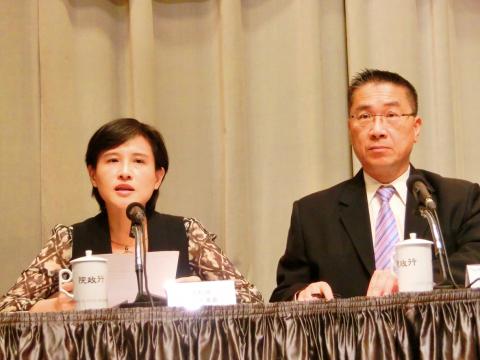 Minister of Culture Cheng Li-chiun, left, yesterday speaks at a news conference at the Executive Yuan in Taipei as Executive Yuan spokesman Hsu Kuo-yung looks on.
Photo: Lee Hsin-fang, Taipei Times
The museum would be a government body rather than an independent institution as was previously proposed, which indicates the importance the government attaches to the history of human rights during the authoritarian era, Minister of Culture Cheng Li-chiun (鄭麗君) said.
"It has taken five-and-a-half years to organize the museum, which has been eagerly awaited by victims of political persecution during the White Terror era and transitional justice advocates. Some of the victims who worked to get the museum built have passed away, including [artist and photographer] Chen Meng-ho (陳孟和)," Cheng said.
The museum is part of the transitional justice effort to discover the truth of history, ascertain responsibility for the persecution of political dissidents and other citizens, reinstate the reputation of political victims, compensate victims and promote educational programs, Cheng said.
The museum would be the nation's highest body of human rights, but it would also work to revitalize historic sites where political persecution took place, she added.
The draft museum bill is to be submitted to the Legislative Yuan for review and approval.
Comments will be moderated. Keep comments relevant to the article. Remarks containing abusive and obscene language, personal attacks of any kind or promotion will be removed and the user banned. Final decision will be at the discretion of the Taipei Times.