Students rally against more labor law changes
Students yesterday clashed with police outside the Democratic Progressive Party's (DPP) headquarters in Taipei, as they called on DPP legislators to drop proposals for further revisions to the Labor Standards Act (勞動基準法).
About a dozen members of the Taiwan Higher Education Union's youth action committee pressed against a protective police line after the DPP failed to send a representative to receive their petition, shouting for the party to return national holidays and reject new amendments to the act.
Seven national holidays were cut as part of labor reforms for a five-day workweek, which added a "flexible rest day" with extra overtime pay to a mandatory day off each week.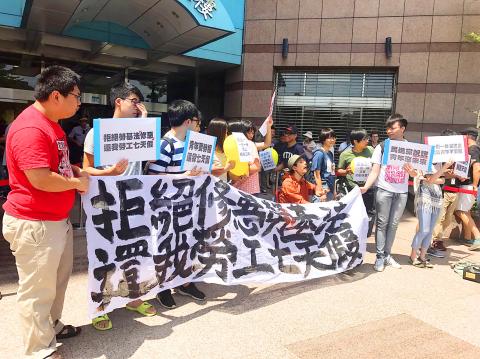 Members of the Taiwan Higher Education Union youth action committee yesterday urge the government to drop its plan to amend the Labor Standards Act at a news conference outside Democratic Progressive Party headquarters in Taipei.
Photo: Su Fang-he, Taipei Times
"The DPP is not even putting on a pretense anymore," alliance member Hsieh Yi-hung (謝毅弘) said, adding that 21 legislators have signed on to support bills that would further amend the act.
Proposals to create a "working hours bank," add more flexibility to the calculation of rest day work hours and allow annual leave to be deferred are examples of how some amendments would weaken overtime protections, he said.
Young part-time workers have failed to see promised increases in overtime pay from the reforms, he added.
"The Ministry of Labor's promises of increased overtime pay assume that people work at least six days each week, but there are almost no part-time workers who have that kind of schedule," he said.
He said that based on the latest report by the Directorate-General of Budget, Accounting and Statistics, average weekly work hours for full-time workers have fallen only by an average of 5.4 minutes since reforms took effect — from 42.82 hours per week last year to 42.73 hours per week in the first five months of this year.
He criticized the implementation of the reforms, including adding several new industries to the "flexible work hours" rules over the past month and offering guidance instead of punishment for those found violating the law.
Following opposition from a number of local governments, the ministry last month announced that fines would not immediately be levied upon discovery of violations during routine inspections, and that local governments would be given flexibility to determine when penalties are imposed.
Comments will be moderated. Keep comments relevant to the article. Remarks containing abusive and obscene language, personal attacks of any kind or promotion will be removed and the user banned. Final decision will be at the discretion of the Taipei Times.