KMT to hold banquet to discuss infrastructure plan
New Taipei City Mayor Eric Chu (朱立倫) is to preside over a banquet with Chinese Nationalist Party (KMT) legislative caucus members and KMT mayors and county commissioners tomorrow, at which he expects to discuss the Forward-looking Infrastructure Development Program and solutions to the "one fixed day off, one flexible rest day" labor law, he said.
Chu made the announcement on the sidelines of a news conference yesterday.
Chu is to brief KMT lawmakers and his KMT counterparts on the city's needs for funding for development projects.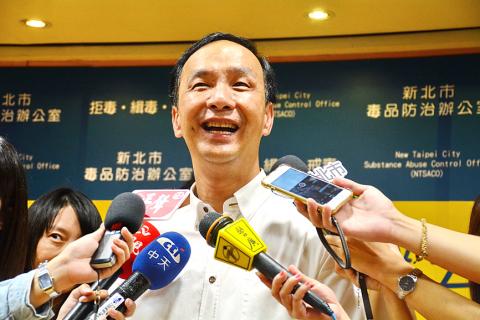 New Taipei City Mayor Eric Chu speaks to reporters in New Taipei City on Monday.
Photo: CNA
He is also to discuss strategies to amend the Labor Standards Act (勞動基準法), a key issue that is expected to be discussed in the next legislative session scheduled to take place in September.
The banquet was postponed until after cross-caucus negotiations over the infrastructure development program are finalized.
The move has sparked speculation that Chu is preparing to campaign for the 2020 presidential election.
KMT chairman-elect Wu Den-yih (吳敦義) said that he would refrain from interfering with KMT caucus affairs before taking office on Aug. 20.
"With the review of the Forward-looking project bill in full swing, many smaller projects in KMT-governed regions require funding, and Chu could be the local government and KMT caucus coordinator," KMT caucus secretary-general-elect Lin Wei-chou (林維洲) said.
Asked to comment on the rivalry between Chu and Wu, Lin said that the KMT is in "desperate" need of constructive competition.
"The KMT used to be lodged in a top-down power structure, but not anymore," Lin said.
"We need several talented people to compete in the primaries, whether it be the presidential or local elections," he said.
"The KMT is still learning this and we should treat it with optimism as long as the party can find strength and unity at the end of the day," Lin added.
Comments will be moderated. Keep comments relevant to the article. Remarks containing abusive and obscene language, personal attacks of any kind or promotion will be removed and the user banned. Final decision will be at the discretion of the Taipei Times.