Wind farm not harmful to dolphins: firm
Formosa 1 Wind Power Co yesterday said its wind farm in the waters off Miaoli County's Jhunan Township (竹南) would not invade the habitat of Taiwanese humpback dolphins, but environmentalists disagreed.
Formosa 1 is a subsidiary of Swancor Holding Co, which was mostly acquired by DONG Energy (35 percent) and Macquarie Capital (50 percent) in January.
The Environmental Protection Administration (EPA) yesterday set up an ad hoc committee to review the company's sixth report of its environmental difference analysis.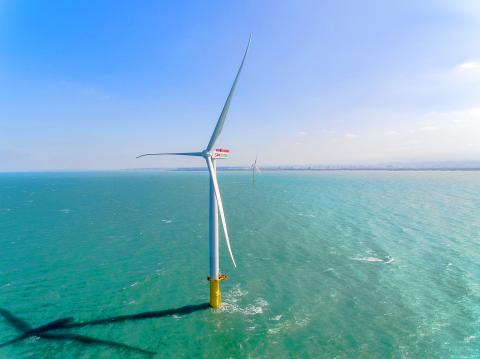 Demonstration wind turbines are pictured on April 28 at a planned offshore wind farm off the coast of Miaoli County's Jhunan Township.
Photo: courtesy of Swancor Holding Co
The wind farm, about 5km off the coast, is one of three demonstration sites selected by the Ministry of Economic Affairs' Bureau of Energy in 2011.
Having passed the EPA's environmental impact assessment in 2013, the company said it plans to build 32 wind turbines that would generate 128 megawatts (MW) of electricity.
In yesterday's review, the company proposed changes to its original plan, saying it hopes to reduce the number of turbines while increasing each one's capacity.
In one plan, the company proposed building 22 turbines that would generate a total of 128MW, while another proposed building 35 turbines that would generate 126.8MW.
However, environmental groups were concerned about the project's effects on Taiwanese humpback dolphins.
Many studies have shown that the Taiwanese species (Sousa chinensis taiwanensis) lives in the seas near Miaoli, but the company's environmental impact assessment did not take the dolphins into serious account, New Power Party Miaoli Office executive secretary Chen Chi-chung (陳祺忠) said.
Fewer than 70 of the dolphins live in the region, Wild at Heart Legal Defense Association chairman Robin Winkler (文魯彬) said.
The company should consult their foreign shareholders, DONE Energy and Macquarie about ecological protection, Winkler said.
A company representative said the dolphins' major habitat has moved in the past five years and that the wind farm would not intrude on their habitat.
Whether the dolphins are indigenous to Taiwan is questionable, he said, adding that academics have not yet reached a consensus.
The company is required to submit more environmental impact assessments about its wind turbine plans, committee chairman Kao Chih-ming (高志明) said.
Comments will be moderated. Keep comments relevant to the article. Remarks containing abusive and obscene language, personal attacks of any kind or promotion will be removed and the user banned. Final decision will be at the discretion of the Taipei Times.