Supreme Court upholds death for man convicted of double murder and rape
BEYOND REHABILITATION: The husband and father of the two victims said he hoped Huang Lin-kai would be killed soon to save the expense of having to feed him
The Supreme Court yesterday upheld the death sentence for Huang Lin-kai (黃麟凱), who was convicted of the double murder of his former girlfriend and her mother, saying the "enormity of his crimes" preclude any chances of rehabilitation.
Yesterday's ruling was the first time this year that the Supreme Court upheld a sentence for capital punishment, as judges in the lower courts are increasingly reluctant to hand out the death penalty.
Huang, who was a military conscript at the time, was convicted of the rape and murder of his ex-girlfriend, surnamed Wang (王), and of killing her mother, after breaking into their house on Oct. 1, 2013.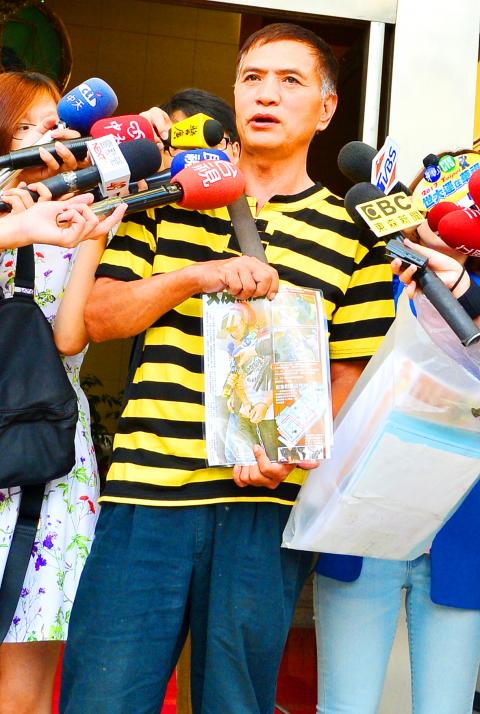 The father and husband of two women killed by Huang Lin-kai speaks to reporters outside the Supreme Court in Taipei yesterday.
Photo: Wang Yi-song, Taipei Times
Prosecutors cited anger over the breakup and a dispute about money as the motives behind the double homicide.
The Supreme Court upheld Huang's death sentence for killing his ex-girlfriend, in addition to the life imprisonment sentence without the possibility of parole that he received for killing her mother.
The nation's top court said that while Huang's murder of the mother was cold-blooded, it was an unpremeditated crime and did not meet the legal requirements for capital punishment.
However, after Huang murdered the mother, he waited in the residence for an hour before ambushing Wang to commit premeditated rape and murder, as evidenced by the mask and rope he brought with him, the court said.
"Huang planned meticulously for his strangling of the woman, surnamed Wang. Prior to killing Wang, Huang committed the additional crime of forcible sexual intercourse. The inhumanity and enormity of his crimes give the judges of the panel no option but to pronounce a death sentence," it said.
The husband and father of the murder victims told reporters: "I hope they shoot him soon and stop wasting food."
The Huang family had paid no damages to him or his three surviving daughters, the husband said, accusing the Huang family of liquidating their assets to avoid liabilities incurred by civil lawsuits.
Comments will be moderated. Keep comments relevant to the article. Remarks containing abusive and obscene language, personal attacks of any kind or promotion will be removed and the user banned. Final decision will be at the discretion of the Taipei Times.