Thousands gather over freeway motorbike ban
FED UP: Campaigners said their ride along a national freeway yesterday was not an act of civil disobedience because it adhered to the spirit of legislative revisions
Thousands of motorcyclists yesterday gathered on Ketagalan Boulevard in Taipei to demand that national freeways be opened to heavy motorcycles, with motorcyclists nationwide defying prohibitions in protest rides.
Event organizer Wu Ming-hsiang (吳銘祥) said the protest was motivated by the failure of the Ministry of Transportation and Communications to act on repeated legislative resolutions calling for freeways to be opened to motorbikes.
The Legislative Yuan in 2010 passed revisions to the Road Traffic Management and Penalty Act (道路交通管理處罰條例) allowing motorcycles with an engine capacity of 550cc or more to use freeways, while retaining a ban on scooters and smaller motorcycles.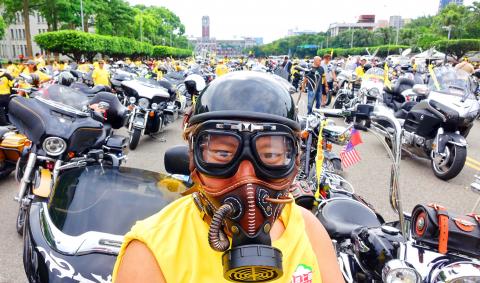 A motorcyclist participates in a mass protest on Ketagalan Boulevard in Taipei yesterday.
Photo: Liu Hsin-de, Taipei Times
"We are fed up after more than five years of meetings with the ministry," he said, calling for immediate moves to conduct pilot freeway openings.
"Stop telling us that this delay is because of local government opposition," he said, showing official responses from numerous local governments stating that regulations over freeways were the ministry's responsibility.
There have only been a handful of accidents in the past five years in a 5.6km stretch of the Formosa Freeway (Freeway No. 3) which was opened to heavy motorcycles between Taipei and New Taipei City's Shenkeng (深坑).
Other campaigners made more forceful demands.
"We will not allow the ministry to keep taking its time and bullying us," Taiwan Traffic Safety Association president Chen Hung-yi (陳宏益) said. "It should open all highways and conduct a review after a set period of time."
He said that motorcyclists yesterday were not guilty of civil disobedience because using freeways is in accordance with the spirit of Legislative Yuan revisions to the act.
"What we are doing is legal — it just happens to violate ministry rules," he said. "What right do they have to act like a little emperor and forbid us?"
Dozens of motorcyclists yesterday rode on freeways not open to them in defiance of ministry rules.
After the protest campaigners rode to the Executive Yuan, promising to end the day with a mass ride along Freeway No. 3.
Their rally was attended by New Power Party Legislator Freddy Lim (林昶佐), but no other legislators were said to be at the event.
The ministry is expected to hold a meeting with motorcyclists tomorrow, with local media reports stating it is "leaning toward" opening Freeways No. 4 and No. 8.
Comments will be moderated. Keep comments relevant to the article. Remarks containing abusive and obscene language, personal attacks of any kind or promotion will be removed and the user banned. Final decision will be at the discretion of the Taipei Times.