Taiwan and the US make a great team, AIT director says
The American Institute in Taiwan (AIT) promoted sports diplomacy at a US Independence Day celebration in Taipei yesterday, which featured a performance by the Chicago Luvabulls cheerleaders, and Taiwanese and US athletes, including the winner of this year's NBA Rookie of the Year Award.
The world's No.1 female badminton player, Tai Tzu-ying (戴資穎); the nation's top woman golfer, Teresa Lu (盧曉晴); and Milwaukee Bucks guard Malcolm Brogdon, who recently won the NBA Rookie of the Year award; as well as young exceptional Taiwanese basketball players and Summer Universiade mascot "Bravo" attended the event, the AIT said.
"We chose a sports theme, and specifically basketball, for this event, to not only celebrate the University Games, but also represent America," AIT Director Kin Moy said in a speech at the reception.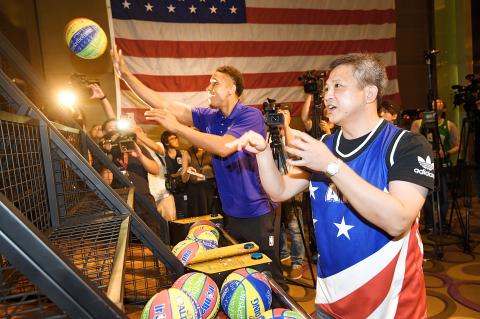 American Institute in Taiwan director Kin Moy, right, and NBA star Malcolm Brogdan practice throwing hoops at an event to celebrate the US' Independence Day in Taipei yesterday.
Photo: Fang Pin-chao, Taipei Times
Basketball, invented in the US in 1891, is a popular sport in the US, Taiwan and around the world, he said.
Making a sports analogy, Moy — dressed in a black T-shirt and jeans — said that "US-Taiwan relations are like a team."
TEAM also stands for "Together Everyone Achieves More," he said, adding that is how he sees relations between Taiwan and the US.
"We are stronger together," he said, as the two sides have shared values, prosperity and security.
Taiwan is a valued partner of the US that has made meaningful contributions to addressing regional and global challenges, Moy told hundreds of guests, which included Vice President Chen Chien-jen (陳建仁) and former president Ma Ying-jeou (馬英九).
Moy cited Taiwan-US cooperation in digital economy and partnership at the APEC forum as examples.
The two sides have also worked together under the Global Cooperation and Training Framework to train officials from the Asia-Pacific region in pandemic disease prevention, and humanitarian and disaster relief.
Moy had just returned to Taiwan from Washington, where he heard "universal praise of what a great partner Taiwan is," he said.
"It's great to have a teammate like Taiwan," he added.
Chen — wearing a Los Angeles Lakers jersey — extended his congratulations to the US on behalf of the Taiwanese government.
Highlights of the reception included a performance by the Chicago Luvabulls cheerleaders and a pop-a-shot contest between Moy and Brogdon, which were broadcast live on Facebook.
It was AIT's first Facebook live broadcast of its Independence Day celebration and President Tsai Ing-wen (蔡英文) left a comment, wishing friends at the institute "Happy Independence Day."
The AIT represents US interests in Taiwan in the absence of bilateral diplomatic ties.
Comments will be moderated. Keep comments relevant to the article. Remarks containing abusive and obscene language, personal attacks of any kind or promotion will be removed and the user banned. Final decision will be at the discretion of the Taipei Times.