Marines receive jail terms for torturing, killing dog
The Kaohsiung District Court yesterday found three marines guilty of torturing a dog to death, a violation of the Animal Protection Act (動物保護法), and handed the three men six-month prison terms, which are commutable to fines.
It was the first ruling in the case and can be appealed.
The incident in June last year involved squad leader Sergeant Chen Yu-tsai (陳祐才) and two privates under his command — Chang Feng-yu (張峰瑜) and Hu Chia-wei (胡家瑋) — of the Marine Corps' Air Defense Group, which is based at Zuoying Naval Base in Kaohsiung.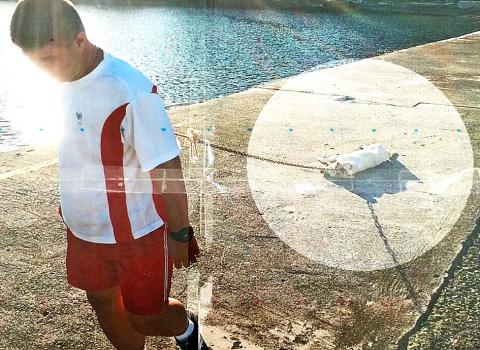 A marine is pictured abusing a dog in an undated photograph taken in Kaohsiung. The Kaohsiung District Court yesterday found three marines guilty of killing the dog in June last year.
Photo: CNA
As Chang and Hu admitted to wrongdoing and cooperated during the investigation, the court suspended their sentences and placed them on probation for two years.
In addition to the jail sentences, the court also imposed fines of NT$150,000 on Chen, NT$130,000 for Chang and NT$225,000 for Hu.
The three men's terms can be commuted to additional fines, at a rate of NT$1,000 per day.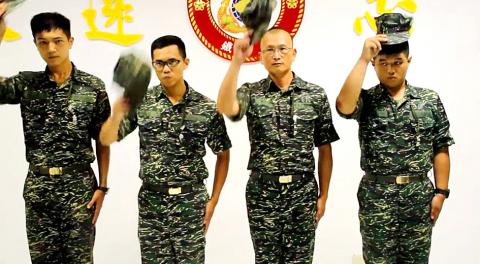 Then-Marine Corps Air Defense Group commander Chung Shiang-tsuan, second right, and three marines take off their caps to apologize for abusing and killing a dog in June last year at a news conference in Kaohsiung in an undated photograph.
Photo: screen grab from Facebook
An investigation found that there were a number of stray dogs living near the unit's barracks that were being fed by the soldiers.
Prosecutors said that on June 24 last year, Chen saw one of the dogs, nicknamed "Little White" (小白), wandering in the unit's exercise yard and reportedly told Chang: "Make Little White disappear, I do not want to see him anymore."
They added that when Chang asked if that meant killing the dog, Chen told him: "Do what you like, I do not care."
Chang and Hu then leashed Little White and took him to an embankment near the shore, where they beat the dog with a wooden club and hung him by the leash, prosecutors said.
Chang filmed the incident on his smartphone and circulated the video on social media platform Line among his friends.
One man who was reportedly disgusted by the torture and killing of the animal reported it to local authorities.
News of the incident sparked a public furor.
"Chen was commander of the unit, and his instructions to soldiers to beat the dog to death showed a lack of comprehension about animal protection," the court said.
Comments will be moderated. Keep comments relevant to the article. Remarks containing abusive and obscene language, personal attacks of any kind or promotion will be removed and the user banned. Final decision will be at the discretion of the Taipei Times.