Group isolates plastic-eating bacteria
BIODEGRADATION: Polystyrene-eating worms have long been known to scientists, but local researchers have discovered a way to accelerate the decomposition process
After three years of research, a team from Kaohsiung's I-Shou University has isolated the bacteria in the guts of mealworms and superworms that enable them to dissolve polystyrene.
Researchers have known for years that the Tenebrio molitor, or mealworm, and Zophobas morio, or superworm, can digest polystyrene, with all studies indicating that the effect was enzymatic in origin and related to bacteria in the worms' digestive tracts, said Liu Hsiao-han (劉孝漢), a professor at the university's Department of Biological Science and Technology who led the study with three students.
However, research has been largely stymied by their slow-acting effect, even when enzymes directly extracted from the digestive tracts of mealworms were applied to polystyrene, Liu said.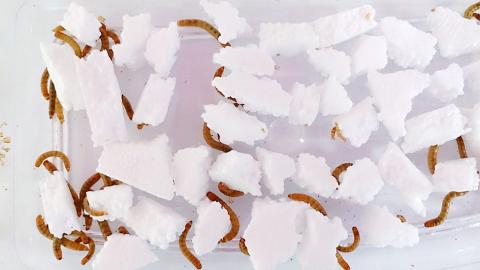 Mealworms and pieces of Styrofoam are seen under a microscope in an undated photograph.
Photo courtesy of Kuo Ting-an
Liu said he became acquainted with the biodegradation process through his research work with now-retired professor Yang Mei-kwei (楊美桂) of Fu Jen Catholic University, adding that their group was also stumped at the slow decomposition process.
However, under Yang's suggestion, the I-Shou research team introduced a special enzyme, which accelerated the pace of degradation from half a year to one day, Liu said.
The team was able to identify two bacteria strains from the worms' guts, calling them TM1 and ZM1.
The results allowed the group to conduct quantitative analysis and increase the viability of similar experiments, Liu said, adding that the research team has applied for patents in Taiwan and the US.
If the team is able to identify the genetic makeup of the key enzyme in future experiments, it may be possible to clone the genetic material onto other germs, such as the easily cultivated Escherichia coli bacteria, Liu said.
It could pave the way for making polystyrene biodegradable at an acceptable pace, Liu said.
Kuo Ting-an (郭庭安), one of the students involved in the project, said he had initially wanted to pursue research in cosmetics, but decided against it after discovering that the majority of his classmates wanted to do the same and decided to follow his instructor in conducting research on mealworms.
Comments will be moderated. Keep comments relevant to the article. Remarks containing abusive and obscene language, personal attacks of any kind or promotion will be removed and the user banned. Final decision will be at the discretion of the Taipei Times.