Teachers' union calls for 'collective holiday'
The Taipei Teachers' Union yesterday announced a plan for its members to take a "collective holiday" in September to protest pension reform.
"If the government does not listen to our voice, we intend to push for a noncooperation movement in schools to express our dissatisfaction," union president Hsu Hsin-yi (徐欣怡) said, adding that the union would urge teachers across the nation to take a holiday on Sept. 28.
While Sept. 28 is officially designated as National Teachers' Day, it does not include paid leave for teachers, leading to the possibility of disruption at schools if teachers follow through with their threat.
Civic groups opposed to pension reform hold banners at a rally outside the Legislative Yuan in Taipei yesterday.
Photo: Lo Pei-der, Taipei Times
"We do not know what the future holds after the reform, because if we reluctantly acquiesce this round, there is no knowing what the government will do in three or five years," she said.
Hsu also criticized the Democratic Progressive Party (DPP)-sponsored legislation's calculation of pension replacement ratio reductions relative to salary for including payouts from the Public Employee Insurance and assorted public pension funds.
"This would be forcing us to pay twice for insurance, but only getting paid out of one," she said.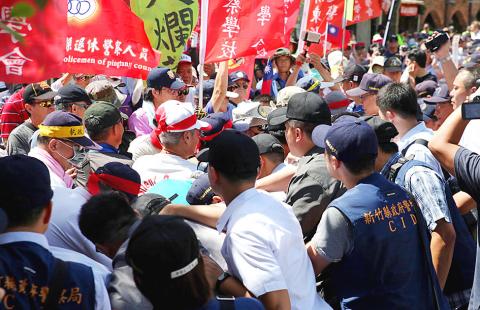 People opposed to pension reform jostle with police outside Sanyuan Temple in Hsinchu County's Hukou Township yesterday.
Photo: CNA
The proposed inclusion of the Public Employee Insurance has drawn criticism, because the fund's finances are healthy, unlike the numerous pension funds that are forecast to go bankrupt over the next two decades.
"Reform plans would be particularly punishing for Taipei teachers because our salaries and benefits are the same as everyone else, but we have to do more work because of higher parental expectations, and we will have trouble staying in Taipei after retirement," union executive secretary Huang Chih-hung (黃志宏) said, citing high housing costs.
"Because taking a holiday is an individual right, this will not count as a strike," Huang said, adding that some teachers might not be allowed to take time off.
Teachers' unions are legally forbidden from launching strikes.
Meanwhile, the ranks of protesting pensioners who have congregated outside the Legislative Yuan along Qingdao Road since the final review of legislation began last week gradually swelled to several hundred in the early evening, before declining as protestors left for dinner.
The protesters gave speeches and shouted slogans throughout the afternoon, taking turns pricking their fingers and sprinkling blood on a white banner to symbolize their resolve.
National Federation of Teachers' Unions director-general Huang Yao-nan (黃耀南) said his union "looks favorably" on the Taipei Teachers' Union's threat to "take a collective holiday," but has no plans to call on member unions to join.
However, his group would support some other form of "noncooperation" if reform passes, he said, adding that some union members have advocating a period of simultaneous "labor education" during regular class time in schools across the nation.
Comments will be moderated. Keep comments relevant to the article. Remarks containing abusive and obscene language, personal attacks of any kind or promotion will be removed and the user banned. Final decision will be at the discretion of the Taipei Times.