INTERVIEW: The tortuous journey toward national energy reform
President Tsai Ing-wen's goal of phasing out nuclear power and achieving 20 percent renewable energy sources in overall energy production by 2025 has come into question after the government approved the restart of nuclear reactors at two power plants, and extended operation licenses for Yunlin County's Mailiao coal power plant. While saying that such things were inevitable as the nation transitions to cleaner energy production, National Taiwan University Graduate Institute of National Development professor Chou Kuei-tien in an interview with 'Liberty Times' (sister newspaper of the 'Taipei Times') staff reporter Jennifer Huang criticized the Tsai administration for not offering a clear discourse backing up its policy
Liberty Times (LT): The government has decided to restart reactors at the Guosheng Nuclear Power Plant in New Taipei City's Wanli District (萬里) and the Ma-anshan (馬鞍山) Nuclear Power Plant in Pingtung County to compensate for increased electricity usage during the summer. How do you view this U-turn in policy?
Chou Kuei-tien (周桂田): Since the Chernobyl disaster in the former Ukrainian Soviet Socialist Republic and the Fukushima Dai-ichi nuclear power plant accident in Japan, many nations have made efforts to cut down their reliance on nuclear power, or are seeking to abolish nuclear power.
Aging nuclear power plants are not the only issue that worries Taiwanese, the government's lack of ability to process the spent fuel rods that are rapidly filling spent fuel pools is also a factor.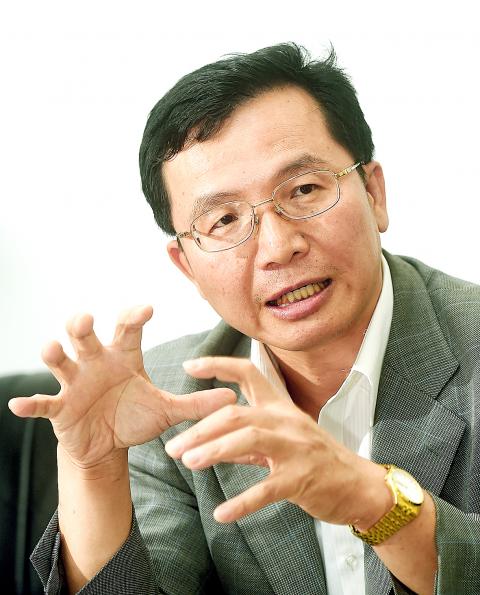 Chou Kuei-tien, director of the Graduate Institute of National Development, speaks in an interview with the Liberty Times on Thursday last week.
Photo: Fang Pin-chao, Taipei Times
Both the Democratic Progressive Party (DPP) and the Chinese Nationalist Party (KMT) must realize that phasing out nuclear power is inevitable.
Every nation has faced opposition and protest when announcing transitions to "cleaner" energy sources. Regardless of which party governs the nation, the public should not have to worry about insufficient electricity.
Germany has made the phasing out of nuclear power a clear goal of its energy policy. In comparison with Germany, South Korea and Japan, Taiwan generates about 10 percent of it electricity from nuclear sources, while in Germany it is 25 percent and in South Korea and Japan more than 30 percent.
It is not impossible to replace nuclear power production in Taiwan.
The nation is still in the process of resolving the "dead weight" of erroneous energy policies of past administrations.
Primarily a nation of original equipment manufacturing industries, Taiwan is faced with a sluggish transition between technology and economic models.
This is a plight mirrored by the government's lack of innovative management, causing it to rely on nuclear power and fossil fuels as primary energy-production sources.
Taiwan has severely lagged behind on the global trend to transition to cleaner energy sources, as the total amount of renewable energy resources in the nation comprises less than 5 percent.
Certainly, ending nuclear power production cannot be accomplished quickly; problems of electricity usage are immediate concerns. It is the basis which the "old guards," who are supportive of nuclear energy, keep bringing up to defend its continued use, leading to consistent set-backs in transitioning to alternative energy sources.
Therefore, a clear strategy must be given for the public to understand what issues might stand in the way and what the end-goal is, to prevent people from having unrealistic expectations. The government must also change its form of governance to decrease conflict.
The government in April published the Energy Development Policy Guidelines and is working on an energy transition report. The Forward-looking Infrastructure Development Program also includes projects for "green" energy.
The government is already making plans to phase out nuclear power by 2025, and switch to 50 percent natural gas, 30 percent coal and 20 percent renewable energy resources.
During the transition phase, nuclear power plants would still operate, and while the amount of power generated by coal power plants might not decrease, the overall ratio of coal power generation would drop.
The government should come up with more effective ways of decreasing pollutants from coal-fired power generation.
Whether the public is aware of these transitional measures, and whether they are acceptable, is still in question. The greatest problem in promoting the transition to cleaner energy production is that the learning curve the public must go through has not been taken into account.
By failing to establish the correct public perception of the policy, potential support might instead become opposition due to misunderstanding.
LT: The Formosa Group's naphtha cracker in Mailiao (麥寮) was granted an operational extension and Asia Cement Corp's mining rights have been extended for 20 years, while Formosa Chemicals & Fibre Corp's coal-burning permit was revoked by the local government, then reissued. Why is it that the use of fossil fuels and the industry's reliance on them are expanding?
Chou: The petroleum industry contributed 1.6 percent of GDP in the past 10 years and the broadly defined petroleum industry contributed 2.6 percent.
However, they consume one-quarter of the nation's energy. Although the government repeatedly said it wants to transform the industries, subsidies for fossil fuels keep coming and international organizations have estimated that Taiwan's energy industries are given NT$30 billion (US$987 million) in subsidies.
The government and industry lack the resolve to move toward a low-pollution and low-energy consumption economy.
Formosa Chemicals & Fibre Corp's coal-burning permit was revoked by the local government, but then granted by the central government. It shows that central and local governments have no policy consensus on energy or curbing pollution.
The central government should not have abrogated its responsibility to Yunlin County for the Mailiao naphtha cracker coal plant.
The Environmental Protection Administration ruled against Asia Cement Corp's mining operation extension before the Ministry of Economic Affairs contradicted it by expediting its mining rights 'license.
There has not been a consensus on big policy direction between various levels of the government. The Tsai administration must solve this issue.
The Mailiao plant must reduce emissions by 21 percent and operations must be conducted with a low-pollution supercritical power plant as part of its licensing extension conditions.
Formosa Plastics Group also promised to shift from coal to natural gas in stages. However, it has been vague on the details of its timetable and did not commit to clear and concrete promises. The government's failure to formulate a clear policy allows industry operators to act in opportunistic ways.
Energy policy cannot be restricted to power generation. It has to consider the greater framework of energy, industry and social transitions. There has to be an answer for energy needs in the short term, as well as a coherent plan of transition for the medium and long term that can be clearly conveyed to the public. This would avoid confusing the private sector, to whom government policy seems to shift.
Enterprises should be cognizant that high energy consumption and high-polluting industrial models are on the way out and they cannot afford ambiguity or opportunism. Government agencies need to adopt innovative measures to transform themselves.
The goals of ending nuclear power and reducing carbon emissions require a rethinking of policy details and a timetable, which must be coordinated.
LT: How should the government communicate with the public about its energy restructuring plans in order to garner more support?
Chou: Communicating with the public requires extensive knowledge. It involves tackling several things at once, such as a reduction in coal-fired power, energy production methods, conservation and so on.
If you look closely at the government's proposal for energy development and the parts of the forward-looking plan that deal with "green" energy, you will see that there are ample plans for problem response and resolution, but discourse is still lacking.
I suggest the government reconsolidate their energy policies. We cannot have the economic ministry again leading a small group of research organizations in an old bureaucratic style. We need more scientific calculations reviewed by many scientists.
The goal of abolishing nuclear power by 2025 is very clear, but in the meantime we might fall short of its electricity needs.
The minister of economic affairs said the nation needs to increase coal-fired plant production to 50 percent of generated power to meet transition needs. How was this calculation made?
The nation cannot continue to blindly follow whatever the ministry and Taiwan Power Co (Taipower) say in regards to distribution and power usage — people outside these organizations never trust what they say.
The discussion should be opened to scientists and civic groups to regain the public's trust.
The top-down system needs to be transformed into one based on democratic deliberation. The nation should aim for shared understanding, participation, discussion and consensus between industry, the public and academics.
More importantly, people at every level must be made aware that they have a shared responsibility in the transition toward "clean" energy.
Industry must aim to reduce waste and pollution, and the public must be more conservative in its energy use. Those who use more power must pay more. This is the only way the transition toward "clean" energy can be realized faster with less work.
A lot of past controversies cannot be avoided. For example, the Electricity Act (電業法) must be amended, efficiency must be improved and rates for water and power must be adjusted.
The government also needs to address investment in and costs of renewable energy.
The nation should also implement an energy tax.
These things are necessary for transition to "green" energy and the government should not put off discussions with the public, industry, Taipower and independent power producers to allow them to adapt to coming changes as soon as possible.
National Taiwan University's Risk Society and Policy Research Center between 2012 and 2015 conducted public opinion polls and found that about 80 percent of the public is willing to give up low-cost nuclear power in exchange for the environmental sustainability gained from more expensive renewable energy.
In an effort to improve air quality for the next generation, 87 percent of poll respondents said they supported a transition to "green" energy.
This shows that support and demand for a transitional model are already strong, people are just waiting for the government to lay out a clear path.
Translated by staff writers and Jake Chung, Jonathan Chin and William Hetherington
Comments will be moderated. Keep comments relevant to the article. Remarks containing abusive and obscene language, personal attacks of any kind or promotion will be removed and the user banned. Final decision will be at the discretion of the Taipei Times.