Zoo's hand-raised owl chick thriving
The first rare bird at Taipei Zoo to hatch after its egg was placed in an incubator turned 20 days old yesterday and is developing normally, a zoo conservationist said.
The tiny brown wood owl, which is still fully covered in white down, is under the care of three specialists who feed it and look after it, the zoo said.
The zoo said that at the beginning of last month, staff discovered an egg laid by one of the brown wood owls on the ground in a common area.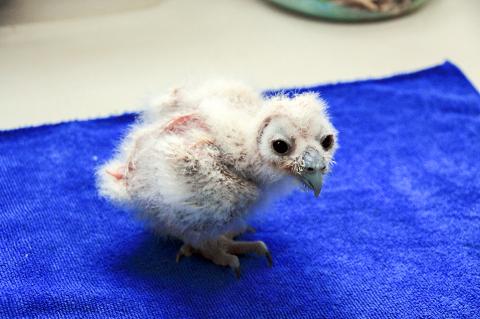 A brown wood owl chick that hatched on June 1 is pictured at Taipei Zoo in an undated photograph.
Photo: courtesy of Taipei Zoo
As the egg had been discarded by its parent, the staff at first thought it was damaged. However, an examination showed the egg was fully intact and its embryo still alive, and it was rushed to the zoo's incubation facilities.
The chick hatched on June 1, breaking free after pecking at the shell for about 30 hours.
Conservationists said they were pleasantly surprised when the chick freed itself, as discarded eggs rarely hatch without problems.
It was a challenge to feed the owl chick at first, as it is the first bird to be completely hand-raised by zookeepers, the zoo said.
When first hatched the owl was 39g and appeared very weak and delicate, but it is now filling out and gaining strength, staff said.
Zoo spokesman Eric Tsao (曹先紹) on Monday said that the chick's mother had previously laid an egg that did not develop properly so the mother pecked it open and consumed the embryo.
"This is a normal part of natural selection and the proper course of action so the animal can quickly get on with a new attempt at reproducing," Tsao said.
Comments will be moderated. Keep comments relevant to the article. Remarks containing abusive and obscene language, personal attacks of any kind or promotion will be removed and the user banned. Final decision will be at the discretion of the Taipei Times.