Design contest to be held for self-driving car center
Shalun Green Energy Science City is to launch an architectural competition for its control center for self-driving cars.
The renewable energy industry park in Tainan is under planning and construction and has been hailed by the government as a showcase project for its "five plus two" innovative industries program, which aims to stimulate information technologies, biomedicine, renewables, robotics, defense and aviation, and to develop new agriculture and a circular economy.
The competition is open to the public and the top contestant is to be awarded a NT$300,000 prize, the Shalun Green Energy Science City preparatory office said.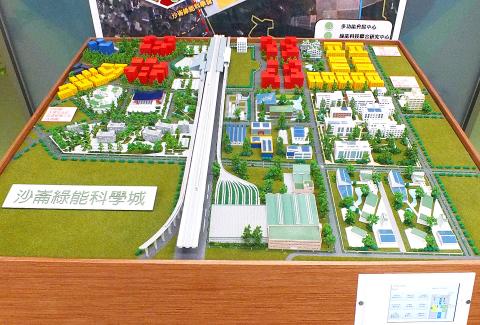 A model of the proposed Shalun Green Energy Science City is displayed at the project's preparatory office in Tainan on Thursday last week.
Photo: Wu Chun-feng, Taipei Times
The facility is to be responsible for testing self-driving cars and should be completely powered by green energy, such as solar power or hydrogen fuel cells , office head Huang Te-jui (黃得瑞) said.
In addition, the center needs to be suitable for roles such as energy management, conservation education and technology demonstration, Huang said.
The center must incorporate "smart" technologies that integrating energy generation, storage and conservation system and be aesthetically pleasing, he said.
A competition is also to be held to design bus shelters and charging stations for the park's electric or hydrogen-powered buses, which are also to be entirely powered by renewable energy Huang said.
The public is invited to participate and the best submission is to be awarded NT$50,000, Huang said.
Comments will be moderated. Keep comments relevant to the article. Remarks containing abusive and obscene language, personal attacks of any kind or promotion will be removed and the user banned. Final decision will be at the discretion of the Taipei Times.