Cave temple faces closure
An alliance of cultural conservationists urged the Taitung County Government to list the Chaoyin Cave (潮音洞), one of the Basian Caves (八仙洞), as a cultural heritage site, as it houses the last remaining cave temple in the county.
Chaoyin Temple was constructed during the last days of the Japanese colonial era, and was an important religious site for the early migrants settling in modern-day Changbin Township (長濱), the group said.
The temple has existed since before the Basian Caves were designated a national heritage site, the group said, adding that the temple paid taxes and rent and was registered as a building with the county government.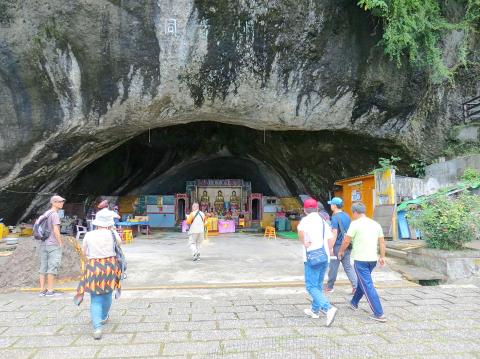 A group of Taitung County Government officials inspect Chaoyin Cave, one of the county's Baxian Caves, on Monday in response to an application for the site to be listed as a cultural heritage site.
Photo: copied by Huang Ming-tang, Taipei Times
The conservationists said they had submitted the paperwork to register Chaoyin Temple as a cultural site in April.
However, the county government has notified the temple that it has until Tuesday next week to remove all structures from within the cave, they said.
Meanwhile, two county Bureau of Cultural Affairs officials on Monday inspected the site and considered the groups' application on Monday.
The group claimed that the county government failed to notify the temple about the visit before Sunday, thus temple staff were unable to meet the officials when they arrived.
Bureau Director Chung Ching-po (鍾青柏) said that the county government's actions were in accordance with measures by the Control Yuan to clear out the Basian Caves, which were once littered with temples.
Many temples have claimed to be around since the Japanese colonial era, but such claims have not stood up to scrutiny, Chung said, adding that according to the bureau's research, the Chaoyin temple was not built until 1954.
Since its construction, it had never been legally registered as a temple, thus the temple's claims that it had paid taxes and rent were not accepted by the court, he said.
Chaoyin Temple stands on government land and that fact is backed by a court ruling, Chung said.
Chung said he believed Chaoyin Temple did not meet the requirements to be designated a cultural site, but the county government has six months to decide on the matter, as everyone was entitled to apply for a cultural site to be recognized.
The county government has already agreed to a list of requirements from temples if they are to relocate and the temple might now be reneging on its agreement due to the intervention of the group, Chung said.
Comments will be moderated. Keep comments relevant to the article. Remarks containing abusive and obscene language, personal attacks of any kind or promotion will be removed and the user banned. Final decision will be at the discretion of the Taipei Times.