KMT supports Chang's appeal
GLASS HOUSE: KMT caucus convener Sufin Siluko said the head of the DPP Nantou County chapter had also produced fliers alleging improper conduct by a candidate
The Chinese Nationalist Party (KMT) yesterday voiced its support for KMT Deputy Secretary-General Chang Ya-ping's (張雅屏) request for an extraordinary appeal from the Supreme Court over a 34-month prison term he was given for a libel lawsuit.
Speaking at a news conference at the Legislative Yuan in Taipei, KMT caucus convener Sufin Siluko (廖國棟) said that the ruling handed down last month by Supreme Court was disproportionate.
Chang was found guilty of running a smear campaign ahead of the nine-in-one elections in November 2014, when he was the head of the KMT's Pingtung County chapter.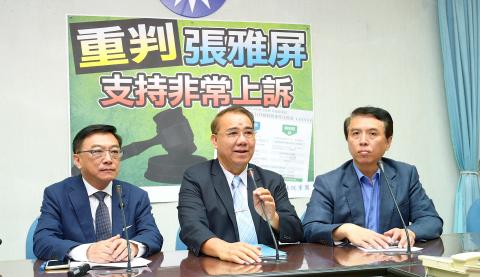 Chinese Nationalist Party (KMT) caucus convener Sufin Siluko, center, speaks at a news conference at the Legislative Yuan in Taipei yesterday.
Photo: Chang Chia-ming, Taipei Times
The Pingtung chapter produced and circulated campaign fliers claiming that then-Democratic Progressive Party (DPP) county commissioner candidate Pan Men-an (潘孟安) had extramarital affairs.
Chang, who is also to be stripped of his civil rights for five years, is scheduled to be imprisoned next month.
Earlier this month, he said that he would file with Supreme Court Chief Justice Yan Ta-ho (顏大和) for an extraordinary appeal.
The court handed down a punishment disproportionate with the crime, Sufin said, adding that DPP Nantou chapter head Chen Chao-yu (陳昭煜) made fliers accusing then-Nantou County commissioner candidate Lin Ming-chen (林明溱) of having extramarital affairs, but the Nantou District Court ruled in Chen's favor, citing his "efforts to substantiate his claims."
Never has a defendant been imprisoned on charges of defamation, Sufin said, adding that the DPP could have exerted undue influence on the court.
The punishment is excessive, especially as the court would not allow the jail term to be commuted to a fine, which is how libel lawsuits are usually settled, he added.
KMT legislators Apollo Chen (陳學聖) and Chen Yi-min (陳宜民), as well as former president Ma Ying-jeou's (馬英九) elder sister, Ma Yi-nan (馬以南), were also at the news conference to show solidarity with Chang.
Comments will be moderated. Keep comments relevant to the article. Remarks containing abusive and obscene language, personal attacks of any kind or promotion will be removed and the user banned. Final decision will be at the discretion of the Taipei Times.