Lighthouse work reveals past
UNDER THE PAINT: The discovery of bullet marks from machine gun fire refuted rumors that the tower was destroyed by airstrikes during World War II and rebuilt
A restoration project of the Oluanpi Lighthouse (鵝鑾鼻燈塔) in Pingtung County has so far removed paint from large parts of the tower, revealing traces of its construction for the first time in more than a century, as well as battle scars from World War II.
After the lighthouse's iron body showed signs of rust, a complete refurbishment of the tower was authorized, necessitating the removal of the exterior paint, lighthouse official-in-charge Peng Nien-lu (彭念陸) said on Sunday.
As the sun heats the iron plate, workers are limited to only a few hours per day on the job to avoid being scalded, Peng said, adding that the paint is being chipped off with hand tools.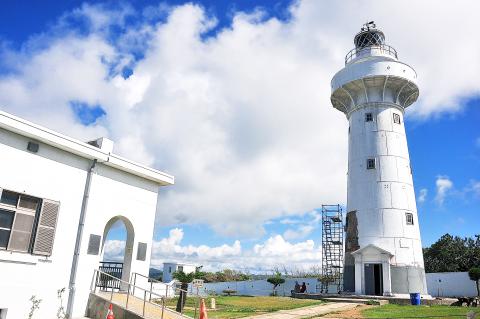 A scaffold stands next to the Oluanpi Lighthouse in Pingtung County's Hengchun Township on Sunday as it undergoes repairs.
Photo: Tsai Tsung-hsien, Taipei Times
In the process of restoring the lighthouse, the project has also uncovered mementos that clarified aspects of the lighthouse's past, which is an important part of Taiwanese history.
For example, after scraping 6mm of paint, signs of battle such as bullet holes and marks from anti-aircraft gun mounts during World War II were uncovered on the lighthouse, Peng said.
The discovery of those marks refuted rumors that the lighthouse was destroyed by airstrikes during the war and was later rebuilt, because the damage was caused by machine gun fire, not bombs, Peng said.
In addition, the structure was intact and the pockmarks were patched with materials consistent with those used during the Japanese colonial period, Peng said.
The 134-year-old lighthouse was commissioned by the Qing Empire and built by John Harding, an engineer from England, local historian Nien Chih-cheng (念吉成) said.
The main structure is comprised of 20mm cast-iron plates that were mortared together with local materials, with its interiors paved with Qing-style bricks, Nien said.
A layer of red paint used by Qing Dynasty builders was found on the structural iron, confirming that no similar restoration work was ever performed in the lighthouse's history, he said.
The lighthouse's sturdiness was a factor in its survival, despite being targeted in two wars, Nien said.
After the First Sino-Japanese War, Qing officials ordered the tower burned to deny it to the Japanese, to whom Taiwan was ceded, but the structure withstood the attempted sabotage, he said.
Near the end of World War II, the lighthouse was targeted by strafing and bombing by Allied aircraft, but it again survived, Nien said.
Those events left marks that are a valuable part of Taiwanese history and they are exposed for the duration of the restoration, which could be completed this month at the earliest, he said.
Comments will be moderated. Keep comments relevant to the article. Remarks containing abusive and obscene language, personal attacks of any kind or promotion will be removed and the user banned. Final decision will be at the discretion of the Taipei Times.