Unique post office draws tourists to Pingtung County
The coastal township of Fangshan (枋山) in Pingtung County, known primarily for its onions and mangoes, and as the hometown of President Tsai Ing-wen's (蔡英文) family, now has another big draw: a post office shaped like a Chunghwa Post mailbox.
Since it opened on Oct. 14 last year, the 41st branch of the Pingtung Post Office has been a tourist attraction in the rural township thanks to its unique appearance.
Just as eye-catching are the Irwin mangoes and onions painted on the exterior walls and surroundings, which are designed to look like a beach and the ocean.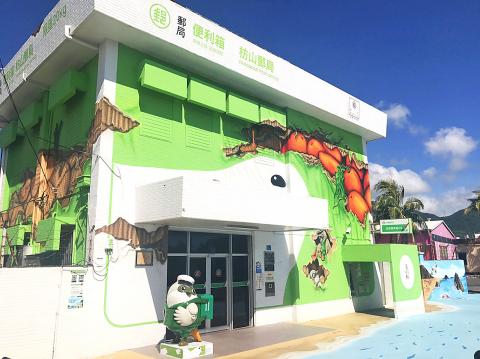 Pingtung Post Office's remodeled Fangshan Township branch, its exterior painted with the town's local produce, is pictured on Sunday.
Photo: CNA, courtesy of Pingtung Post Office
Out front is also a cartoon shrike "postal worker" character that functions as a mail collection box.
Pingtung Post Office manager Yu Su-chen (尤素珍) lauded the branch's special features, saying it is also the nation's first "green" post office, as it is powered by solar energy.
"[The artwork] reverses the traditional ice-cold image of post offices," she said.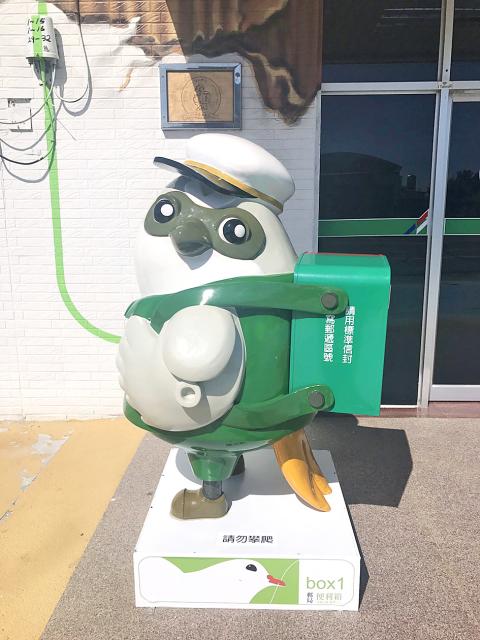 A Chunghwa Post mailbox in the shape of a cartoon shrike "mail carrier" is pictured on Sunday outside the Fangshan Township branch of Pingtung Post Office.
Photo: CNA, courtesy of Pingtung Post Office
The two-employee post office, located on Provincial Highway No. 1, has solar panels installed on the roof and a "smart" information service system.
As with all post offices, the facility offers regular postal and banking services, but Yu said it has the extra benefit of helping local farmers promote their onions.
Comments will be moderated. Keep comments relevant to the article. Remarks containing abusive and obscene language, personal attacks of any kind or promotion will be removed and the user banned. Final decision will be at the discretion of the Taipei Times.