Ministry extends scope of holiday rules exemptions
FLEXIBILITY NEEDED: The labor ministry yesterday said exemptions were needed where peaks in demand are 'unpredictable,' but workers' representatives disagreed
Trucking companies and natural gas dealers are to be granted "flexible working hours" exceptions from overtime restrictions for the first time under new rules announced by the Ministry of Labor yesterday, as it continues to make adjustments following the implementation of "one mandatory day off, one flexible rest day" reforms.
Natural gas firms are to be placed on a list of firms with "four-week flexible working hours," while trucking firms will be on a list with "eight-week flexible working hours."
Both lists grant exemptions from overtime rules, but they offer different amounts of flexibility.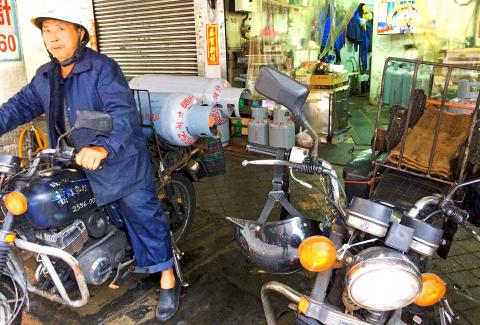 A man delivering gas canisters yesterday gets ready to leave his shop in Taipei.
Photo: CNA
"Eight-week flexible working hours" conditions continue to require that workers be given a "mandatory day off" every seven days, while allowing their "flexible rest days" to be spread freely over the eight-week period.
"Four week flexible working hours" rules allow "mandatory days off" to be spread freely over a two-week period and "flexible rest days" to be given within a four-week timeframe.
The Labor Standards Act (勞動基準法) largely restricts application of the "four week" exemption to the service sector, while both special regulations can only be adopted by individual firms after obtaining consent from their workers.
"Industries are applying for 'flexible working hours' mainly because they used to shuffle the 'mandatory rest day' around within two-week periods, but that avenue has been closed under our new stricter interpretation of regulatory standards," Department of Labor Standards and Equal Employment Deputy Director Huang Wei-chen (黃維琛) said.
The ministry has interpreted existing "mandatory rest day" regulations more strictly as part of the "one mandatory day off, one flexible rest day" reforms that aim to encourage a universal five-day workweek, Huang said.
The gas dealers' application was approved because of the unpredictable nature of demand, as consumers find out they are out of gas while cooking or showering, he said, adding that this necessitated more flexible working hours.
Logistics companies were included because they face irregular peak periods, particularly when ships arrive in port and need to be unloaded, Huang added.
In the past months, the ministry has introduced exceptions for overseas business travel and administering civil servant entrance exams, as well as for butchers and passenger transportation workers during national holidays.
Huang said the ministry estimated that roughly 75,000 workers would be affected by the inclusion of logistics firms and natural gas dealers.
"There's still definite limits on the flexibility granted, which is limited to workdays — not work time — so overall work time should not change," Deputy Minister of Labor Kuo Kuo-wen (郭國文) said, even as the move drew criticism from workers' groups.
"'Flexibility' sounds great, but this is really about opening a back door for business interests, Logistical Labor Rights Self-help Association chairman Tseng Yu-cheng (曾堉誠) said, demanding that the ministry restore regular "one mandatory day off and one flexible rest day" rights for workers in the sectors.
Additional reporting Huang Pang-ping
Comments will be moderated. Keep comments relevant to the article. Remarks containing abusive and obscene language, personal attacks of any kind or promotion will be removed and the user banned. Final decision will be at the discretion of the Taipei Times.