Papers tossed out of car turn out to be US dollar bills
POPULAR DESTINATION: Zaociao Township residents have been complanining about people coming to the area to see the local scenery, causing overcrowding and congestion
What was thought to be joss paper tossed out of a moving car in Miaoli County's Zaociao Township (造橋) turned out to be large-denomination US dollar bills, said Zaociao Mayor Huang Chun-te's (黃純德) chauffeur, Chou Chih-chiang (周志強).
Chou said he was waiting near Lu Chih Restaurant as Huang took part in a video shoot to promote the local scenery, especially blossoming royal poinciana near the railway line behind the restaurant.
The scenery is considered to be unique and the township is a popular destination for photography enthusiasts.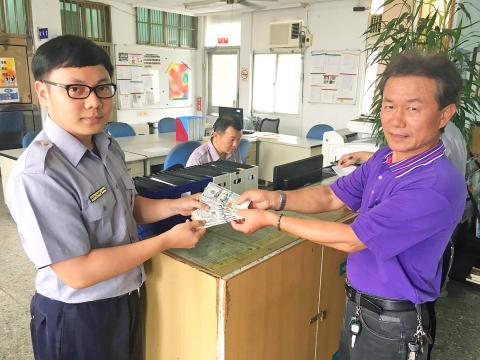 Chou Chih-chiang, right, hands over the US currency he found to a police officer in Miaoli County on Tuesday.
Photo: Hsu Chan-i, Taipei Times
However, local residents have been complaining about overcrowding in the area, as the road in front of the restaurant is narrow and is often congested due to people coming to see the scenery, he said.
Pedestrians are at risk as well, as some drivers suddenly stop in the middle of the road to look at the scenery, Chou said.
Chou said he was using his smartphone when a car passed by him and he saw pieces of paper being thrown out of one of its windows.
He said he thought it was an act of protest in which people fling joss paper.
However, Chou said he found out that the papers were 12 US dollar banknotes amounting to US$610.
Chou said he did not know if the person in the car had accidentally dropped the money or had intended to spread money around, adding that he delivered the money to Zaociao Police Station.
The station said it would post a public notice so that the person who lost the money can claim it.
Flinging joss paper as a form of protest connotes the wish that someone would suffer a sudden death. Joss paper, most often seen at funerals or during Tomb Sweeping Day, is closely connected to the afterlife.
Comments will be moderated. Keep comments relevant to the article. Remarks containing abusive and obscene language, personal attacks of any kind or promotion will be removed and the user banned. Final decision will be at the discretion of the Taipei Times.